High Temperature Vinyl Pull Tab Caps
FPT-T
View Larger Image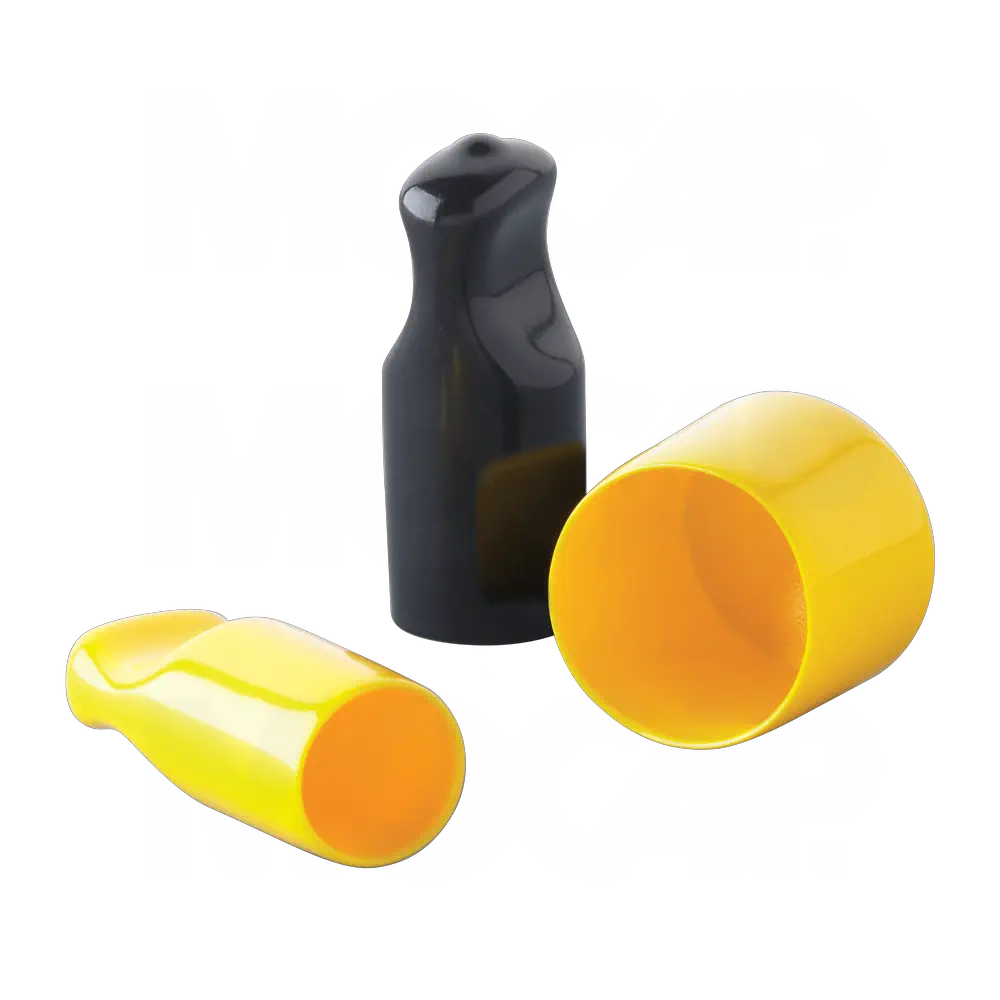 Material: High-Temp Vinyl (Black)
Flat / Ergonomic Tab for Easy Removal
Stretches for a Snug Fit but Won't Split, Tear or Shred
Part #
Description
Inside Diameter

Min Inside Length

Max Inside Length

Wall Thickness

Tab Height

Stocked Length


in

Buy Online
More info
FPT9617T
High Temperature Vinyl Pull Tab Caps - .187FPT X ? HT FLAT PULL TAB CAP

4.7

6.4

25.4

0.038

1.0

0.500

12.7

-
FPT9618T
High Temp Vinyl Pull Tab Caps - .215FPT X ? HT FLAT PULL TAB CAP

5.5

6.4

25.4

0.038

1.0

0.500

12.7

-
FPT9619T
High Temp Pull-Tab Caps - .236FPT X ? HT FLAT PULL TAB CAP

6.0

6.4

25.4

0.038

1.0

0.500

12.7

-
FPT9620T
High-Temp Plastic Pull-Tab Caps - .250FPT X ? HT FLAT PULL TAB CAP

6.4

6.4

25.4

0.038

1.0

0.500

12.7

-
FPT9406T
Heat Resistant Plastic Pull Tab Caps - .313FPT X ? HT

8.0

6.4

38.1

0.038

1.0

0.655

16.6

-
FPT9507T
High Temp Pull Tab Vinyl Cap - .343FPT X ? HT

8.7

6.4

38.1

0.038

1.0

0.695

17.7

-
FPT9430T
HiiTemp Pull-Tab Caps - .375FPT X ? HT

9.5

6.4

38.1

0.055

1.4

0.695

17.7

-
FPT9422T
High Temperature Pull Tab Caps - .406FPT - ? HT

10.3

6.4

38.1

0.055

1.4

0.709

18.0

-
FPT9431T
High-Temp Plastic Pull-Tab Caps - .437 X ? HT Flat Pull Tab

11.1

6.4

38.1

0.055

1.4

0.725

18.4

-
FPT9435T
High Temperature Vinyl Pull Tab Caps - .460FPTX ? HT CAP

11.7

6.4

38.1

0.055

1.4

0.750

19.1

-
FPT9432T
High Temp Vinyl Pull Tab Caps - .500 X ? HT Flat Pull Tab

12.7

6.4

38.1

0.060

1.5

0.752

19.1

-
FPT9433T
High Temp Pull-Tab Caps - .531 X ? HT Flat Pull Tab

13.5

6.4

38.1

0.060

1.5

0.764

19.4

-
FPT9362T
High-Temp Plastic Pull-Tab Caps - .562FPT X ? IL HT Cap

14.3

6.4

38.1

0.060

1.5

0.613

15.6

-
FPT9429T
Heat Resistant Plastic Pull Tab Caps - .625FPT X HT

15.9

6.4

38.1

0.060

1.5

0.709

18.0

-
FPT9621T
High Temp Pull Tab Vinyl Cap - .655FPT X ? HT FLAT PULL TAB CAP

16.6

6.4

38.1

0.060

1.5

0.812

20.6

-
FPT9436T
HiiTemp Pull-Tab Caps - .687 X ? HT Flat Pull Tab

17.4

6.4

38.1

0.060

1.5

0.812

20.6

-
FPT9622T
High Temperature Pull Tab Caps - .750FPT X ? HT FLAT PULL TAB CAP

19.1

6.4

38.1

0.060

1.5

0.826

21.0

-
FPT9623T
High-Temp Plastic Pull-Tab Caps - .812FPT X ? HT FLAT PULL TAB CAP

20.6

6.4

38.1

0.060

1.5

0.837

21.3

-
FPT9624T
High Temperature Vinyl Pull Tab Caps - .843FPT X ? HT FLAT PULL TAB CAP

21.4

6.4

38.1

0.060

1.5

0.846

21.5

-
FPT9434T
High Temp Vinyl Pull Tab Caps - .875 X ? HT Flat Pull Tab

22.2

6.4

38.1

0.060

1.5

0.846

21.5

-
FPT9438T
High Temp Pull-Tab Caps - .937 X ? HT Flat Pull Tab

23.8

6.4

38.1

0.060

1.5

0.853

21.7

-
FPT9439T
High-Temp Plastic Pull-Tab Caps - 1.000FPT X ? HT

25.4

6.4

38.1

0.060

1.5

0.858

21.8

-
FPT9625T
Heat Resistant Plastic Pull Tab Caps - 1.062FPT X ? HT FLAT PULL TAB CAP

27.0

6.4

38.1

0.060

1.5

0.858

21.8

-
FPT9626T
High Temp Pull Tab Vinyl Cap - 1.125FPT X ? HT FLAT PULL TAB CAP

28.6

6.4

38.1

0.060

1.5

0.858

21.8

-
FPT9627T
HiiTemp Pull-Tab Caps - 1.250FPT X ? HT FLAT PULL TAB CAP

31.8

6.4

38.1

0.060

1.5

0.858

21.8

-
Part #
Description
Inside Diameter

Min Inside Length

Max Inside Length

Wall Thickness

Tab Height

Stocked Length


in

Buy Online
More info
Legend:
- Add to Cart
- View Price
'D' dimension varies by size. Contact MOCAP Sales for details.
Wall thickness is measured approx. ¼" (6.35mm) from open end. Wall thickness increases slightly towards the closed end of the part
Not Quite Sure What You Need? Want to Consider Another Type or a Different Material?
Consult MOCAP's Exclusive
Application Advisor
for Assistance.
High Temperature Vinyl Pull Tab Caps - Information
MOCAP
High Temperature Vinyl Plastic Masking Caps are the low cost quality answer to your masking needs.
Flexible material
allows these
plastic caps
to seal round and odd shape items. Special high temperature resistant vinyl material withstands up to 475°F(246°C).
High temperature resistant pull tab caps are designed for easier application and removal.
High temp pull tab caps are available in sizes to fit 0.187" to 1.125" diameter applications.
High-temperature resistant round masking caps
are also available in sizes to fit 0.062" to 6" diameter parts.
Special High Temperature Resistant Plastic Material
Sizes to Fit 0.187" to 1.250" Diameters
Pull Tab Design For Easy Removal