Round Vinyl Plastic Caps
RVC
View Larger Image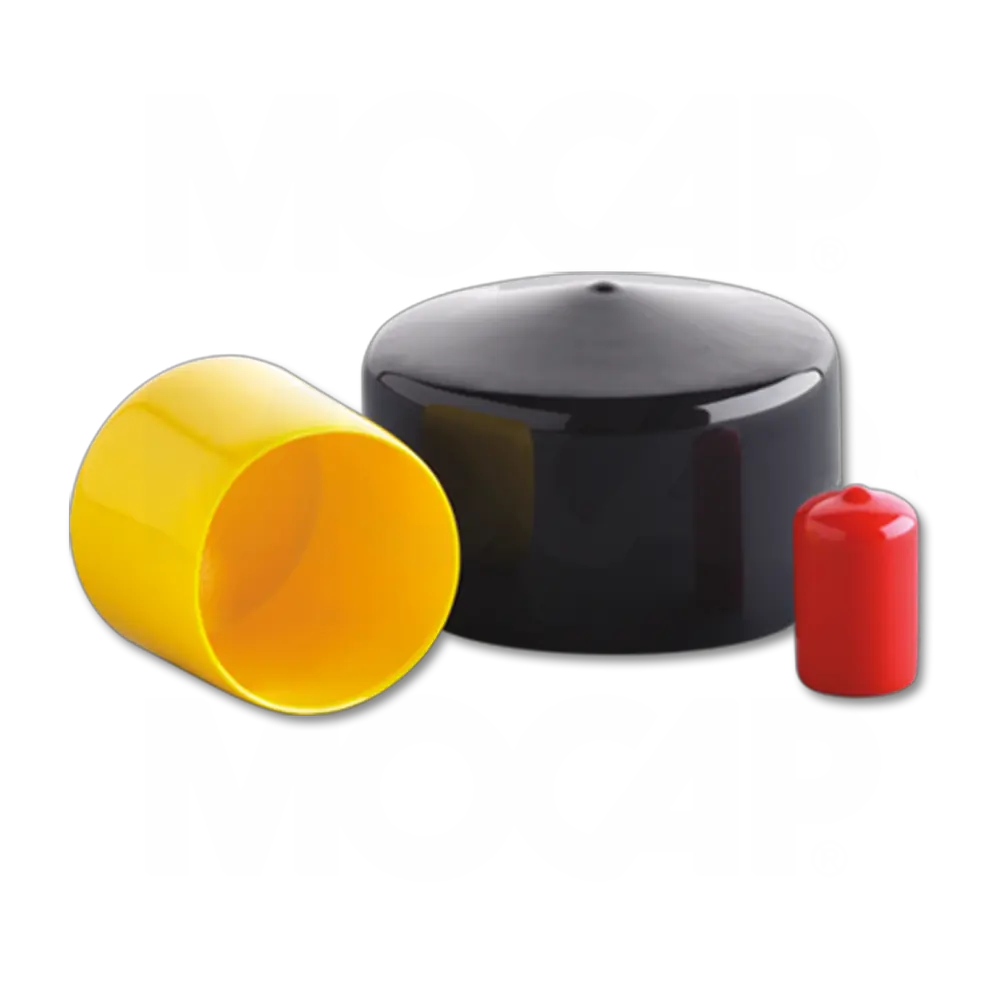 Material: Vinyl
Flexible Yet Durable - Won't Split, Tear or Shred
Printable
Use as Thread Protector or End Cap
Part #
Description
To Fit STD Thread
To Fit METRIC Thread
To Fit NPT
Inside Diameter

Min Inside Length

Max Inside Length

Wall Thickness

Stocked Length


in

Box

/

Mini

/

Micro


QTY
Buy Online
More info
RVC9001
Round Vinyl Plastic Caps - .062 X ? Std Cap
#1

1.6

4.8

12.7

0.022

0.6

0.5

5100

1020

102

RVC9002
Round Vinyl Rubber Caps - .070 X ? std Cap
#1, #2

1.8

4.8

12.7

0.022

0.6

0.5

5100

1020

102

RVC9003
Round plastic end caps - .080 X ? Std Cap
#2, #3

2.0

4.8

15.9

0.028

0.7

0.5

5100

1020

102

RVC9004
Plastic Protective Cover Caps - .093 X ? Std Cap
#3, #4

2.4

4.8

19.1

0.028

0.7

0.5

5170

1034

103

RVC9005
Round Plastic Vacuum Caps - .112 X ? Std Cap
#4, #5

2.8

4.8

25.4

0.033

0.8

0.5 1

5640

1128

112

RVC9006
Round Rubber Cap - .125 X ? Std Cap
#5 , #6

3.2

4.8

38.1

0.033

0.8

0.5 1 1.5

5160

1032

103

RVC9007
Custom-made Plastic Caps - .137 X ? std Cap
M4

3.5

4.8

38.1

0.033

0.8

0.5 1 1.5

5600

1120

112

RVC9008
Round Plastic End Cap - .156 X ? Std Cap
#8
M4

4.0

4.8

38.1

0.038

1.0

0.5 1 1.5

5160

1032

103

RVC9009
Plastic Cap Manufacturer - .172 X ? Std Cap
#10
M5

4.4

4.8

38.1

0.038

1.0

0.5 1 1.5

5100

1020

102

RVC9010
Round Vinyl Plastic Caps - .187 X ? Std Cap
M5

4.7

4.8

38.1

0.038

1.0

0.5 1 1.5

5150

1030

103

RVC9011
Round Vinyl Rubber Caps - .207 X ? Std Cap
#12

5.3

4.8

38.1

0.038

1.0

0.5 1 1.5

5150

1030

103

RVC9012
Round plastic end caps - .218 X ? Std Cap

5.5

4.8

38.1

0.038

1.0

0.5 1 1.5

5330

1066

106

RVC9440
Plastic Protective Cover Caps - .234 X ? Cap
1/4 - 20
M6

5.9

4.8

38.1

0.038

1.0

0.5 0.75 1.5 0.5

5330

1066

106

RVC9013
Round Plastic Vacuum Caps - .250 X ? Std Cap
1/4 - 20

6.4

4.8

38.1

0.038

1.0

0.5 1 1.5

5330

1066

106

RVC9014
Round Rubber Cap - .281 X ? Std Cap

7.1

4.8

38.1

0.038

1.0

0.5 1 1.5

5460

1092

109

RVC9278
Custom-made Plastic Caps - .300 X ? CAP
5/16 - 24
M8

7.6

4.8

38.1

0.038

1.0

0.5 1 1.5

5325

1065

106

RVC9015
Round Plastic End Cap - .313 X ? Std Cap
5/16 - 24
M8

8.0

4.8

38.1

0.038

1.0

0.5 1 1.5 0.5

5325

1065

106

RVC9016
Plastic Cap Manufacturer - .320 X ? Std Cap

8.1

4.8

25.4

0.038

1.0

-

--

--

--

RVC9017
Round Vinyl Plastic Caps - .343 X ? Std Cap

8.7

4.8

38.1

0.038

1.0

0.5 1 1.5

5040

1008

100

RVC9018
Round Vinyl Rubber Caps - .364 X ? Std Cap
3/8 - 24

9.2

4.8

38.1

0.038

1.0

0.5 1 1.5

5175

1035

103

RVC9019
Round plastic end caps - .375 X ? Std Cap up to 2-1/4"
3/8 - 24
M10

9.5

4.8

38.1

0.038

1.0

0.5 0.75 1 1.5

5280

1056

105

RVC9542
Plastic Protective Cover Caps - .390 X ? IL CAP (UP TO 2")
M10
1/8

9.9

4.8

50.8

0.055

1.4

0.5 1 1.5

5280

1056

105

RVC9021
Round Plastic Vacuum Caps - .406 X ? Std Cap
7/16 - 20
1/8

10.3

4.8

38.1

0.055

1.4

0.5 0.5

5280

1056

105

RVC9022
Round Rubber Cap - .437 X ? Std Cap
7/16 - 20
M12

11.1

4.8

38.1

0.055

1.4

0.5 1 1.5

2520 - 5040

504 - 1008

50 - 100

RVC9096
Custom-made Plastic Caps - .468 X ? Std Cap (UP TO 1-1/2)

11.9

4.8

38.1

0.055

1.4

0.5 1 1.5

5280

1056

105

RVC9023
Round Plastic End Cap - .500 X ? Std Cap (UP TO 1-1/2)
1/4

12.7

4.8

38.1

0.060

1.5

0.5 1 1.5

5100

1020

102

RVC9024
Plastic Cap Manufacturer - .531 X ? Std Cap
9/16 - 18
M14
1/4

13.5

4.8

38.1

0.060

1.5

0.5 1.5 0.5

2544 - 5300

509 - 1060

50 - 106

RVC9025
Round Vinyl Plastic Caps - .562 X ? Std Cap
9/16 - 18

14.3

4.8

38.1

0.060

1.5

0.5 1 1.5

2544 - 5300

509 - 1060

50 - 106

RVC9306
Round Vinyl Rubber Caps - .610 X ?
5/8 - 18
M16

15.5

4.8

25.4

0.060

1.5

0.5 1

5100

1020

102

RVC9034
Round plastic end caps - .625 X ? Std Cap (UP TO 1-1/2)
11/16 - 16
M16
3/8

15.9

4.8

38.1

0.060

1.5

0.5 1 1.5 0.5

2520 - 5040

504 - 1008

50 - 100

RVC9035
Plastic Protective Cover Caps - .687 X ? Std Cap
3/4 - 16
M18

17.4

4.8

38.1

0.060

1.5

0.5 0.75 1 1.5 0.75

2560 - 5120

512 - 1024

51 - 102

RVC9036
Round Plastic Vacuum Caps - .750 X ? Std Cap
13/16 - 16
M20

19.1

4.8

38.1

0.060

1.5

0.5 1 1.5

2550 - 5100

510 - 1020

51 - 102

RVC9037
Round Rubber Cap - .812 X ? Std Cap
13/16 - 16
1/2

20.6

4.8

38.1

0.060

1.5

0.5 1 1.5 1

2550

510

51

RVC9038
Custom-made Plastic Caps - .843 X ? Std Cap
7/8 - 14
M22

21.4

4.8

38.1

0.060

1.5

1 1.5

2100

420

42

RVC9039
Round Plastic End Cap - .875 X ? Std Cap
7/8 - 14

22.2

4.8

38.1

0.060

1.5

1 1.5 1

2160 - 2700

430 - 540

43 - 54

RVC9040
Plastic Cap Manufacturer - .937 X ? Std Cap
1 - 16
M24

23.8

4.8

38.1

0.060

1.5

0.5 1 1.5 1

1820 - 2600

360 - 520

36 - 52

RVC9041
Round Vinyl Plastic Caps - 1.000 X ? STD CAP
1-1/16 - 12
M26
3/4

25.4

6.4

38.1

0.060

1.5

0.5 1 1.5 1

1056

200

20

RVC9397
Round Vinyl Rubber Caps - 1.062 x ?
1-1/16 - 12
M27

27.0

6.4

38.1

0.060

1.5

1 1.5 1

1056

200

20

RVC9273
Round plastic end caps - 1.125 x ? (UP TO 2.250)
1-3/16 - 12
M30

28.6

6.4

38.1

0.060

1.5

1 1

1040

200

20

RVC9042
Plastic Protective Cover Caps - 1.187 X ? Std Cap
1-3/16 - 12

30.1

6.4

38.1

0.060

1.5

1 1.5 1

1040

200

20

RVC9043
Round Plastic Vacuum Caps - 1.250 X ? Std Cap
1-5/16 - 12
M32
1

31.8

6.4

38.1

0.060

1.5

0.5 1 1.5

1040

200

20

RVC9320
Round Rubber Cap - 1.313 X ? Std Cap (UP TO 1-1/2) USE RVG9320

33.4

6.4

38.1

0.065

1.7

-

--

--

--

RVC9118
Custom-made Plastic Caps - 1.375 X ? Std Cap (UP TO 1-1/2)

34.9

6.4

38.1

0.065

1.7

1.5 1.5

1020

200

20

RVC9044
Round Plastic End Cap - 1.500 X ? Std Cap (3-1/4" MAX DIP LENGTH)
1-5/8 - 12
M39, M40

38.1

6.4

38.1

0.060

1.5

0.5 1 1.5 1.5

720

100

10

RVC9045
Plastic Cap Manufacturer - 1.625 X ? Std Cap
1-11/16 - 12
M42
1-1/4

41.3

6.4

38.1

0.060

1.5

1.5 1.5

528

100

10

RVC9119
Round Vinyl Plastic Caps - 1.687 X ? Std Cap (UP TO 1-1/2)

42.8

6.4

38.1

0.065

1.7

1.5 1.5

528

100

10

RVC9120
Round Vinyl Rubber Caps - 1.750 X ? Std Cap (UP TO 1-1/2)

44.5

6.4

38.1

0.065

1.7

1.5 1.5

528

100

10

RVC9046
Round plastic end caps - 1.875 X ? Std Cap
1-7/8 - 12
M48
1-1/2

47.6

6.4

38.1

0.060

1.5

-

--

--

--

RVC9324
Plastic Protective Cover Caps - 1.937 X ?
1-7/8 - 12

49.2

6.4

50.8

0.060

1.5

1.5 1.5

525

100

10

RVC9047
Round Plastic Vacuum Caps - 2.000 X ? Std Cap
2
M52

50.8

6.4

44.5

0.060

1.5

1.5 1.5

525

100

10

RVC9048
Round Rubber Cap - 2.125 X ? Std Cap
2-1/4 - 12
M52

54.0

6.4

38.1

0.060

1.5

1.5 1.5

528

100

10

RVC9049
Custom-made Plastic Caps - 2.250 X ? Std Cap
2-1/4 - 12
M58, M60
2

57.2

6.4

38.1

0.060

1.5

1.5 1.5

264

50

5

RVC9050
Round Plastic End Cap - 2.375 X ? Std Cap
2-1/2 - 12
2

60.3

6.4

38.1

0.060

1.5

-

--

--

--

RVC9051
Plastic Cap Manufacturer - 2.500 X ? Std Cap
2-1/2 - 12
M64

63.5

6.4

38.1

0.060

1.5

1.5 1.5

260

50

5

RVC9052
Round Vinyl Plastic Caps - 2.625 X ? Std Cap
M68

66.7

6.4

38.1

0.060

1.5

-

--

--

--

RVC9053
Round Vinyl Rubber Caps - 2.750 X ? Std Cap
M72
2-1/2

69.9

6.4

38.1

0.060

1.5

1.5 1.5

260

50

5

RVC9054
Round plastic end caps - 3.000 X ? Std Cap
M80

76.2

6.4

38.1

0.060

1.5

1.5 1.5

256

50

5

RVC9579
Plastic Protective Cover Caps - 3.250 X ?
M85

82.6

6.4

38.1

0.060

1.5

-

--

--

--

RVC9055
Round Plastic Vacuum Caps - 3.500 X ? Std Cap
M90
3

88.9

6.4

38.1

0.060

1.5

1.5 1.5

180

40

4

RVC9490
Round Rubber Cap - 4.000 X ? STD Cap
M105
3-1/2

101.6

6.4

38.1

0.060

1.5

1.5 1.5

135

25

2

RVC9121
Custom-made Plastic Caps - 4.530 X ? Std Cap (UP TO 1-1/2) USE RVG9121

115.1

6.4

38.1

0.065

1.7

-

--

--

--

RVC9123
Round Plastic End Cap - 4.625 X ? Std Cap (UP TO 1-1/2) USE RVG9123

117.5

6.4

38.1

0.065

1.7

-

--

--

--

RVC9056
Plastic Cap Manufacturer - 6.000 X ? Std Cap

152.4

6.4

44.5

0.060

1.5

-

--

--

--

Part #
Description
To Fit STD Thread
To Fit METRIC Thread
To Fit NPT
Inside Diameter

Min Inside Length

Max Inside Length

Wall Thickness

Stocked Length


in

Box

/

Mini

/

Micro


QTY
Buy Online
More info
Legend:
- Add to Cart
- View Price
NOTE: Box Quantities may vary on items which are available in multiple lengths.
Wall thickness is measured approx. ¼" (6.35mm) from open end. Wall thickness increases slightly towards the closed end of the part
Micropacks are only available for purchase through our online store.
*Stocked Parts are in General Purpose 9500-002 Black Material, with some available in our General Purpose 9500-011 Red Material. See the size chart above for stock offerings.
Not Quite Sure What You Need? Want to Consider Another Type or a Different Material?
Consult MOCAP's Exclusive
Application Advisor
for Assistance.
Round Vinyl Plastic Caps - Information
MOCAP Round Vinyl Plastic Caps offer an attractive, quality finished appearance to consumer and industrial products. Our caps also provide inexpensive but tough protection to your valuable product line.

Our vinyl caps are often referred to as a
rubber
cap because of their flexibility and pliable feel.
Use
Vinyl Plastic Caps
as end caps, pipe caps, tube caps or for appearance finishing on your product.
MOCAP
round caps can be produced in various lengths (up to 1-1/2" long), wall thicknesses, hardness durometers and colors. The vinyl dip molding process allows
MOCAP
to offer any of these options with
no additional tooling charge
.
Round Plastic Caps are stocked in many sizes
, ready for immediate shipment or
MOCAP
can manufacture vinyl rubber caps to-order with the
fastest lead-times in the industry
!
Product Finishing and AppearanceMOCAP
can dip mold round vinyl plastic caps in virtually any color to compliment your product as a
finishing cap
visible to end users. Consider
MOCAP
's other
Finishing and Appearance Products
.
Product Protection
Use
MOCAP
vinyl caps as
durable and inexpensive
caps to protect your product threads or surfaces during assembly or shipping. Review all of
MOCAP
's
products
.
Masking ApplicationsMOCAP
caps are often used as
inexpensive and disposable
single-use
masking caps
for painting and coating processes under 300°F(149°C). For high temperature masking greater than 300°F(149°C) consider
MOCAP
's
High Temperature Vinyl
good to 475°F(246°C) or
MOCAP
Silicone Masking Products
good to over 600°F(316°C).
PMS or special color matching available if our standard color options do not meet your needs.
MOCAP
round vinyl plastic caps are available in sizes from 0.062" to 6.00" diameter.
Dozens of Sizes Stocked for Immediate Shipment
MOCAP now offers Micro-Pack and Mini-Pack quantities when less than case quantities are what you really need. To place an order, click the cart icon on the size chart. Or, to get more information about MOCAP products, call 800.633.6775 or use our
Contact Request Form
to receive information by e-mail.