View Larger Image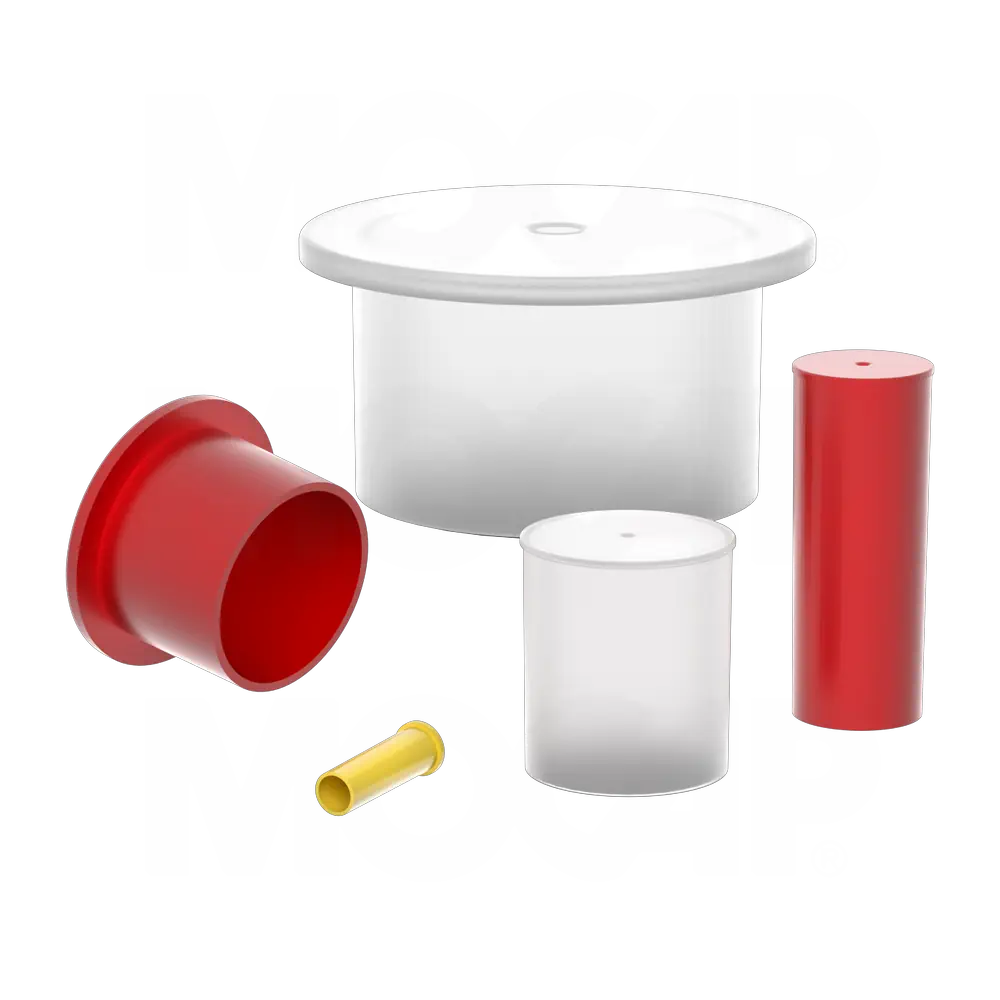 Material: LDPE (Low Density Polyethylene)
Stocked Material: LDPE (Natural), LDPE (Red)
Flanged for Easy Removal
Designed to Fit a Wide Variety of Imperial, Metric, BSP, and NPT Thread Sizes.
Use as Thread Protector or End Cap
Part #
Description
To Fit STD Thread
To Fit METRIC Thread
To Fit NPT
To Fit BSP
Inside Diameter

Large I.D.

Flange OD

Inside Length


Box

/

Mini

/

Micro


QTY
Buy Online
More info
FCM-5
Flanged Plastic Caps - FLANGE CAP FOR 5MM MTRC THRDS
M5

4.9

-

-

0.492

12.5

15.0

5000

1000

100

FCM-6
Flared Plastic Caps - FLANGE CAP FOR 6MM MTRC THRDS
M6

5.9

-

-

0.532

13.5

20.0

5000

1000

100

FCSL.313
Flanged Plastic Caps - Threaded Part Protection - FLANGE CAP FOR 5/16" STR THRDS 1.240" LONG LDPE
5/16

7.8

-

-

0.460

11.7

31.5

5000

1000

100

FCM-8
Plastic Flanged Caps for Threaded Applications - FLANGE CAP FOR 8MM MTRC THRDS
M8

7.8

-

-

0.610

15.5

20.0

5000

1000

100

FCS.313L
Polyethylene Plastic Flanged Caps for Standard, Metric, BSP, and NPT Threads - FLANGE CAP FOR 5/16" STR THRDS 0.840" LONG LDPE
5/16

7.9

-

-

0.510

13.0

21.3

10000

2000

200

FCB0125
Flanged Caps for Imperial, Metric, BSP, and NPT Threads - FLANGE CAP FOR 0.125" (1/8") BSP THRDS
1/8

8.7

0.389

9.9

0.650

16.5

9.7

5000

1000

100

FCS.375
Circular Plastic Connector Cap - FLANGE CAP FOR 3/8" STR THRDS 0.470" LONG LDPE
3/8

9.4

-

-

0.600

15.2

11.9

5000

1000

100

FCS.375L
Flanged Plastic Fittings - FLANGE CAP FOR 3/8" STR THRDS 0.840" LONG LDPE
3/8

9.4

-

-

0.600

15.2

21.3

7500

1500

150

FCSL.375
Plastic Connector Cap - FLANGE CAP FOR 3/8" STR THRDS 1.240" LONG LDPE
3/8

9.4

-

-

0.520

13.2

31.5

5000

1000

100

FCN0125
Flanged Plastic Caps - FLANGE CAP FOR 0.125" (1/8") NPT THRDS
1/8

9.7

0.399

10.1

0.660

16.8

9.7

5000

1000

100

FCM-10
Flared Plastic Caps - FLANGE CAP FOR 10MM MTRC THRDS
M10

9.8

-

-

0.689

17.5

8.2

5000

1000

100

FCS.437
Flanged Plastic Caps - Threaded Part Protection - FLANGE CAP FOR 7/16" STR THRDS 0.470" LONG LDPE
7/16

10.9

-

-

0.690

17.5

11.9

5000

1000

100

FCSL.437
Plastic Flanged Caps for Threaded Applications - FLANGE CAP FOR 7/16" STR THRDS 1.330" LONG LDPE
7/16

10.9

-

-

0.580

14.7

33.8

5000

1000

100

FCM-12
Polyethylene Plastic Flanged Caps for Standard, Metric, BSP, and NPT Threads - FLANGE CAP 12MM MTRC THRDS
M12

11.8

-

-

0.768

19.5

11.9

5000

1000

100

FCS.500
Flanged Caps for Imperial, Metric, BSP, and NPT Threads - FLANGE CAP FOR 1/2" STR THRDS 0.470" LONG LDPE
1/2

12.4

-

-

0.750

19.1

11.9

5000

1000

100

FCSL.500
Circular Plastic Connector Cap - FLANGE CAP FOR 1/2" STR THRDS 1.330" LONG LDPE
1/2

12.4

-

-

0.640

16.3

33.8

5000

1000

100

FCBN0250
Flanged Plastic Fittings - FLANGE CAP FOR 0.250" (1/4") BSP-NPT THRDS
1/4
1/4

12.9

0.533

13.5

0.810

20.6

13.5

5000

1000

100

FCM-14
Plastic Connector Cap - FLANGE CAP 14MM MTRC THRDS
M14

13.7

-

-

0.846

21.5

11.9

5000

1000

100

FCS.563
Flanged Plastic Caps - FLANGE CAP FOR 9/16" STR THRDS 0.500" LONG LDPE
9/16

14.0

-

-

0.810

20.6

12.7

5000

1000

100

FCSL.563
Flared Plastic Caps - FLANGE CAP FOR 9/16" STR THRDS 1.410" LONG LDPE
9/16

14.0

-

-

0.700

17.8

35.8

5000

1000

100

FCS.625L
Flanged Plastic Caps - Threaded Part Protection - FLANGE CAP FOR 5/8" STR THRDS 0.840" LONG LDPE
5/8

15.5

-

-

0.760

19.3

21.3

5000

1000

100

FCB0375
Plastic Flanged Caps for Threaded Applications - FLANGE CAP FOR 0.375" (3/8") BSP THRDS
3/8

15.6

0.661

16.8

0.930

23.6

13.5

5000

1000

100

FCM-16
Polyethylene Plastic Flanged Caps for Standard, Metric, BSP, and NPT Threads - FLANGE CAP 16MM MTRC THRDS
M16

15.7

-

-

0.925

23.5

11.9

5000

1000

100

FCN0375
Flanged Caps for Imperial, Metric, BSP, and NPT Threads - FLANGE CAP FOR 0.375" (3/8") NPT THRDS
3/8

16.4

0.669

17.0

0.940

23.9

13.5

5000

1000

100

FCS.687
Circular Plastic Connector Cap - FLANGE CAP FOR 11/16" STR THRDS 0.500" LONG LDPE
11/16

17.2

-

-

0.940

23.9

12.7

5000

1000

100

FCS.687L
Flanged Plastic Fittings - FLANGE CAP FOR 11/16" STR THRDS 0.840" LONG LDPE
11/16

17.2

-

-

0.940

23.9

21.3

5000

1000

100

FCM-18
Plastic Connector Cap - FLANGE CAP 18MM MTRC THRDS
M18

17.7

-

-

1.004

25.5

11.9

5000

1000

100

FCS.750
Flanged Plastic Caps - FLANGE CAP FOR 3/4" STR THRDS 0.670" LONG LDPE
3/4

18.7

-

-

1.000

25.4

17.0

5000

1000

100

FCS.750L
Flared Plastic Caps - FLANGE CAP FOR 3/4" STR THRDS 0.880" LONG LDPE
3/4

18.7

-

-

0.900

22.9

22.4

5000

1000

100

FCSL.750
Flanged Plastic Caps - Threaded Part Protection - FLANGE CAP FOR 3/4" STR THRDS 1.560" LONG LDPE
3/4

18.8

-

-

0.880

22.4

39.6

2500

500

50

FCSL.750L
Plastic Flanged Caps for Threaded Applications - FLANGE CAP FOR 3/4" STR THRDS 2.660" LONG LDPE
3/4

18.8

-

-

0.880

22.4

67.6

2000

400

40

FCM-20
Polyethylene Plastic Flanged Caps for Standard, Metric, BSP, and NPT Threads - FLANGE CAP 20MM MTRC THRDS
M20

19.7

-

-

1.083

27.5

14.1

5000

1000

100

FCBN0500
Flanged Caps for Imperial, Metric, BSP, and NPT Threads - FLANGE CAP FOR 0.500" (1/2") BSP-NPT THRDS
1/2
1/2

20.3

0.833

21.2

1.090

27.7

18.3

3000

600

60

FCS.813
Circular Plastic Connector Cap - FLANGE CAP FOR 13/16" STR THRDS 0.560" LONG LDPE
13/16

20.4

-

-

1.060

26.9

14.2

5000

1000

100

FCM-22
Flanged Plastic Fittings - FLANGE CAP 22MM MTRC THRDS
M22

21.7

-

-

1.161

29.5

14.1

5000

1000

100

FCSL.875
Plastic Connector Cap - FLANGE CAP FOR 7/8" STR THRDS 1.700" LONG LDPE
7/8

21.9

-

-

1.010

25.7

43.2

2500

500

50

FCSL.875L
Flanged Plastic Caps - FLANGE CAP FOR 7/8" STR THRDS 2.660" LONG LDPE
7/8

21.9

-

-

1.010

25.7

67.6

1500

300

30

FCS.875
Flared Plastic Caps - FLANGE CAP FOR 7/8" STR THRDS 0.660" LONG LDPE
7/8

21.9

-

-

1.120

28.4

16.8

4300

860

86

FCSL1.000
Flanged Plastic Caps - Threaded Part Protection - FLANGE CAP FOR 1" STR THRDS 1.800" LONG LDPE
1

25.1

-

-

1.150

29.2

45.7

1500

300

30

FCS1.000
Plastic Flanged Caps for Threaded Applications - FLANGE CAP FOR 1" STR THRDS 0.660" LONG LDPE
1

25.1

-

-

1.250

31.8

16.8

3000

600

60

FCBN0750
Polyethylene Plastic Flanged Caps for Standard, Metric, BSP, and NPT Threads - FLANGE CAP FOR 0.750" (3/4") BSP-NPT THRDS
3/4
3/4

25.7

1.045

26.5

1.310

33.3

19.1

2000

400

40

FCSL1.062
Flanged Caps for Imperial, Metric, BSP, and NPT Threads - FLANGE CAP FOR 1-1/16" STR THRDS 1.890" LONG LDPE
1-1/16

26.6

-

-

1.190

30.2

48.0

1000

200

20

FCSL1.062L
Circular Plastic Connector Cap - FLANGE CAP FOR 1-1/16" STR THRDS 3.000" LONG LDPE
1-1/16

26.6

-

-

1.190

30.2

76.2

900

180

18

FCS1.062
Flanged Plastic Fittings - FLANGE CAP FOR 1-1/16" STR THRDS 0.750" LONG LDPE
1-1/16
M27

26.7

-

-

1.310

33.3

19.1

2400

480

48

FCSL1.125
Plastic Connector Cap - FLANGE CAP FOR 1-1/8" STR THRDS 2.120" LONG LDPE
1-1/8

28.3

-

-

1.250

31.8

53.8

1500

300

30

FCSL1.125L
Flanged Plastic Caps - FLANGE CAP FOR 1-1/8" STR THRDS 3.100" LONG LDPE
1-1/8

28.3

-

-

1.250

31.8

78.7

900

180

18

FCS1.187
Flared Plastic Caps - FLANGE CAP FOR 1-3/16" STR THRDS 0.750" LONG LDPE
1-3/16
M30

29.8

-

-

1.440

36.6

19.1

2000

400

40

FCBN1000
Flanged Plastic Caps - Threaded Part Protection - FLANGE CAP FOR 1.000" (1") BSP-NPT THRDS
1
1

32.2

1.310

33.3

1.560

39.6

23.6

1000

200

20

FCM-33
Plastic Flanged Caps for Threaded Applications - FLANGE CAP 33MM MTRC THRDS
M33

32.6

-

-

1.594

40.5

17.5

2000

400

40

FCS1.313
Polyethylene Plastic Flanged Caps for Standard, Metric, BSP, and NPT Threads - FLANGE CAP FOR 1-5/16" STR THRDS 0.750" LONG LDPE
1-5/16

33.0

-

-

1.560

39.6

19.1

1800

360

36

FCSL1.313
Flanged Caps for Imperial, Metric, BSP, and NPT Threads - FLANGE CAP FOR 1-5/16" STR THRDS 1.890" LONG LDPE
1-5/16

33.0

-

-

1.440

36.6

48.0

1000

200

20

FCS1.437
Circular Plastic Connector Cap - FLANGE CAP FOR 1-7/16" STR THRDS 0.750" LONG LDPE
1-7/16

36.2

-

-

1.690

42.9

19.1

1500

300

30

FCS1.563
Flanged Plastic Fittings - FLANGE CAP FOR 1-9/16" STR THRDS 0.750" LONG LDPE
1-9/16

39.3

-

-

1.710

43.4

19.1

3000

600

60

FCSL1.625
Plastic Connector Cap - FLANGE CAP FOR 1-5/8" STR THRDS 1.920" LONG LDPE
1-5/8

40.9

-

-

1.760

44.7

48.8

500

100

10

FCBN1250
Flanged Plastic Caps - FLANGE CAP FOR 1.250" (1-1/4") BSP-NPT THRDS
1-1/4
1-1/4

40.9

1.655

42.0

1.940

49.3

24.6

800

160

16

FCS1.625
Flared Plastic Caps - FLANGE CAP FOR 1-5/8" STR THRDS 0.850" LONG LDPE
1-5/8

40.9

-

-

1.880

47.8

21.6

1000

200

20

FCS1.687
Flanged Plastic Caps - Threaded Part Protection - FLANGE CAP FOR 1-11/16" STR THRDS 0.750" LONG LDPE
1-11/16

42.5

-

-

1.920

48.8

19.1

1000

200

20

FCB1500
Plastic Flanged Caps for Threaded Applications - FLANGE CAP FOR 1.500" (1-1/2") BSP THRDS
1-1/2

46.7

1.884

47.9

2.150

54.6

24.6

600

120

12

FCBN1500
Polyethylene Plastic Flanged Caps for Standard, Metric, BSP, and NPT Threads - FLANGE CAP FOR 1.500" (1-1/2") BSP-NPT THRDS
1-1/2
1-1/2

46.9

1.893

48.1

2.160

54.9

24.6

600

120

12

FCS1.875
Flanged Caps for Imperial, Metric, BSP, and NPT Threads - FLANGE CAP FOR 1-7/8" STR THRDS 1.080" LONG LDPE
1-7/8

47.2

-

-

2.120

53.8

27.4

800

160

16

FCSL1.875
Circular Plastic Connector Cap - FLANGE CAP FOR 1-7/8" STR THRDS 1.940" LONG LDPE
1-7/8

47.3

-

-

2.010

51.1

49.3

300

60

6

FCB2000
Flanged Plastic Fittings - FLANGE CAP FOR 2.000" (2") BSP THRDS
2

58.5

2.350

59.7

2.610

66.3

26.2

500

100

10

FCN2000
Plastic Connector Cap - FLANGE CAP FOR 2.000" (2") NPT THRDS
2

59.0

2.370

60.2

2.620

66.5

26.2

500

100

10

FCS2.500
Flanged Plastic Caps - FLANGE CAP FOR 2-1/2" STR THRDS 1.300" LONG LDPE
2-1/2

63.1

-

-

2.750

69.9

33.0

400

80

8

FCS3.500
Flared Plastic Caps - FLANGE CAP FOR 3-1/2" STR THRDS 1.340" LONG LDPE
3-1/2

88.5

-

-

4.090

103.9

34.0

250

50

5

Part #
Description
To Fit STD Thread
To Fit METRIC Thread
To Fit NPT
To Fit BSP
Inside Diameter

Large I.D.

Flange OD

Inside Length


Box

/

Mini

/

Micro


QTY
Buy Online
More info
Legend:
- Add to Cart
- View Price
​
Micropacks are only available for purchase through our online store.
​
Not Quite Sure What You Need? Want to Consider Another Type or a Different Material?
Consult MOCAP's Exclusive
Application Advisor
for Assistance.
Flanged Plastic Caps - Information
MOCAP FC Series Flanged Plastic Caps are designed to protect threads with and without o-rings. Protects components or fittings from moisture, dust and damage during production, shipping and storage, and can also be used as low-temp masking during painting and plating. Flanged caps are easy to assemble or remove by hand or automated equipment.


Our
FC Series
are available in sizes to fit:
Straight threads, 5/16" through 3-1/2"
Metric threads, M5 through M33
BSP and NPT threads, sizes 1/8 through 2
The
FC Series
is available in a wide variety of colors, including red and a "natural" semi-transparent color which allows for visual verification of the threads or o-ring.
Use as Thread Protector or End Cap
Available For Standard Straight, Metric, and BSP/NPT Threads and Fittings
Flanged for Easy Removal
MOCAP stocks Flanged Plastic Caps in many sizes for immediate shipment.
MOCAP now offers Micro-Pack and Mini-Pack quantities when less than case quantities are what you really need. To place an order, click the cart icon on the size chart. Or, to get more information about MOCAP products, call 800.633.6775 or use our
Contact Request Form
to receive information by e-mail.