Round Vinyl Hanger Caps
VHC
View Larger Image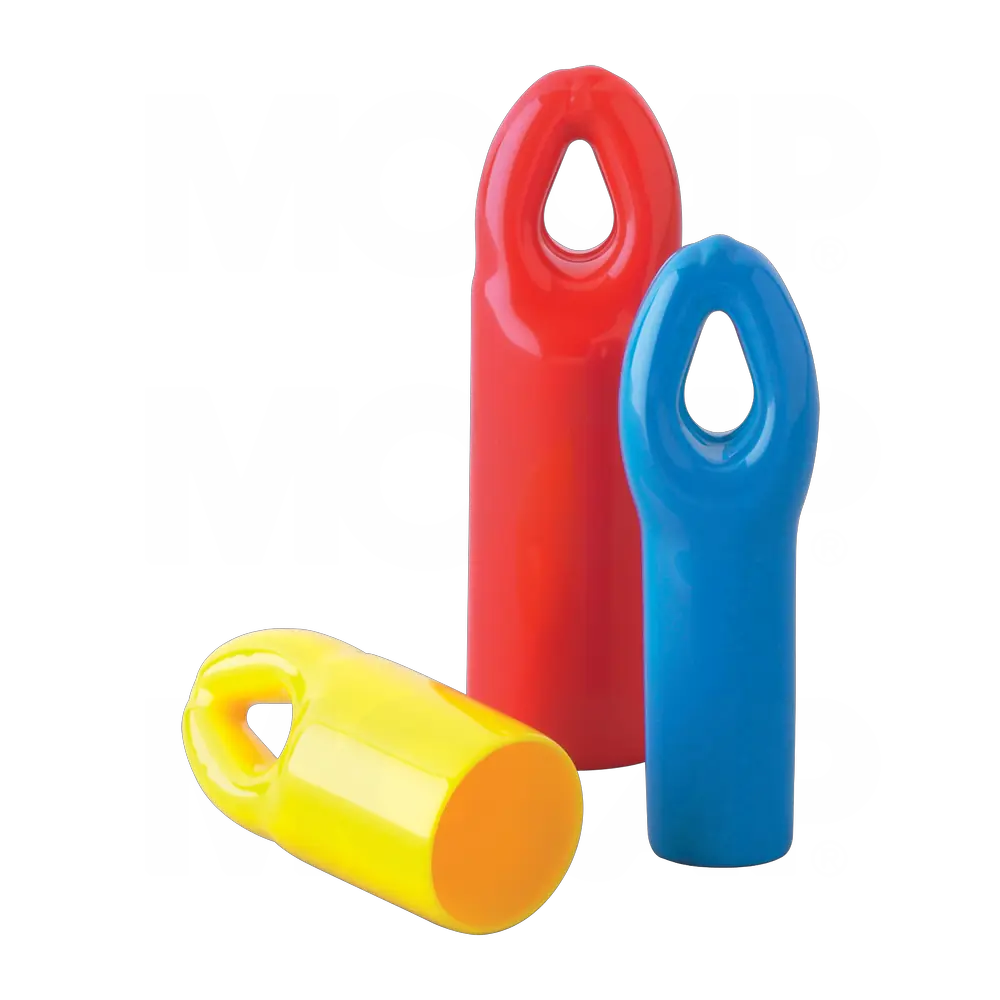 Material: Vinyl
Durable
Stretches for a Snug Fit but Won't Split, Tear or Shred
Part #
Description
Inside Diameter

Min Inside Length

Max Inside Length

Wall Thickness

Stocked Length


in

Box

/

Mini

/

Micro


QTY
Buy Online
More info
VHC9501
Round Vinyl Hanger Caps - .531HC X ?

13.5

12.7

50.8

0.060

1.5

0.5

2520

504

50

VHC9500
Round Vinyl Handle with Hanger Slot - .812HC X ?

20.6

12.7

50.8

0.060

1.5

1

2550

510

51

VHC9502
Vinyl Hanger Caps - 1.062HC X ?

27.0

12.7

50.8

0.060

1.5

1

1045

209

20

VHC9505
Vinyl Plastic End Cap with Hanger - 1.375HC X ?

34.9

12.7

50.8

0.060

1.5

1

1035

207

20

VHC9503
Round End-Cap Hanger Attachment - 1.625HC X ?

41.3

12.7

50.8

0.060

1.5

1

560

112

11

VHC9398
Round PVC Hanger Caps - 1.750HC X ?

44.5

12.7

19.1

0.065

1.7

0.75

560

112

11

VHC9504
Caps with Flexible Rubber Hanger - 2.000HC X ?

50.8

12.7

50.8

0.060

1.5

1

525

105

10

Part #
Description
Inside Diameter

Min Inside Length

Max Inside Length

Wall Thickness

Stocked Length


in

Box

/

Mini

/

Micro


QTY
Buy Online
More info
Legend:
- Add to Cart
- View Price
​
Wall thickness is measured approx. ¼" (6.35mm) from open end. Wall thickness increases slightly towards the closed end of the part
Micropacks are only available for purchase through our online store.
​
Not Quite Sure What You Need? Want to Consider Another Type or a Different Material?
Consult MOCAP's Exclusive
Application Advisor
for Assistance.
Round Vinyl Hanger Caps - Information
MOCAP
Vinyl Plastic Hanger Caps are tough yet flexible. The body of the hanger cap stretches just enough to apply, yet provide a strong hold and tight fit. Unlike our other
plastic caps
, vinyl hanger plastic caps include a durable molded hanger at end.
Flexible yet Strong
Sizes to Fit 9/16" through 2" Diameters
Many Color Options
MOCAP stocks Round Vinyl Hanger Caps in many sizes for immediate shipment.
MOCAP now offers Micro-Pack and Mini-Pack quantities when less than case quantities are what you really need. To place an order, click the cart icon on the size chart. Or, to get more information about MOCAP products, call 800.633.6775 or use our
Contact Request Form
to receive information by e-mail.