Silicone Rubber Pull Plugs
MSPP
View Larger Image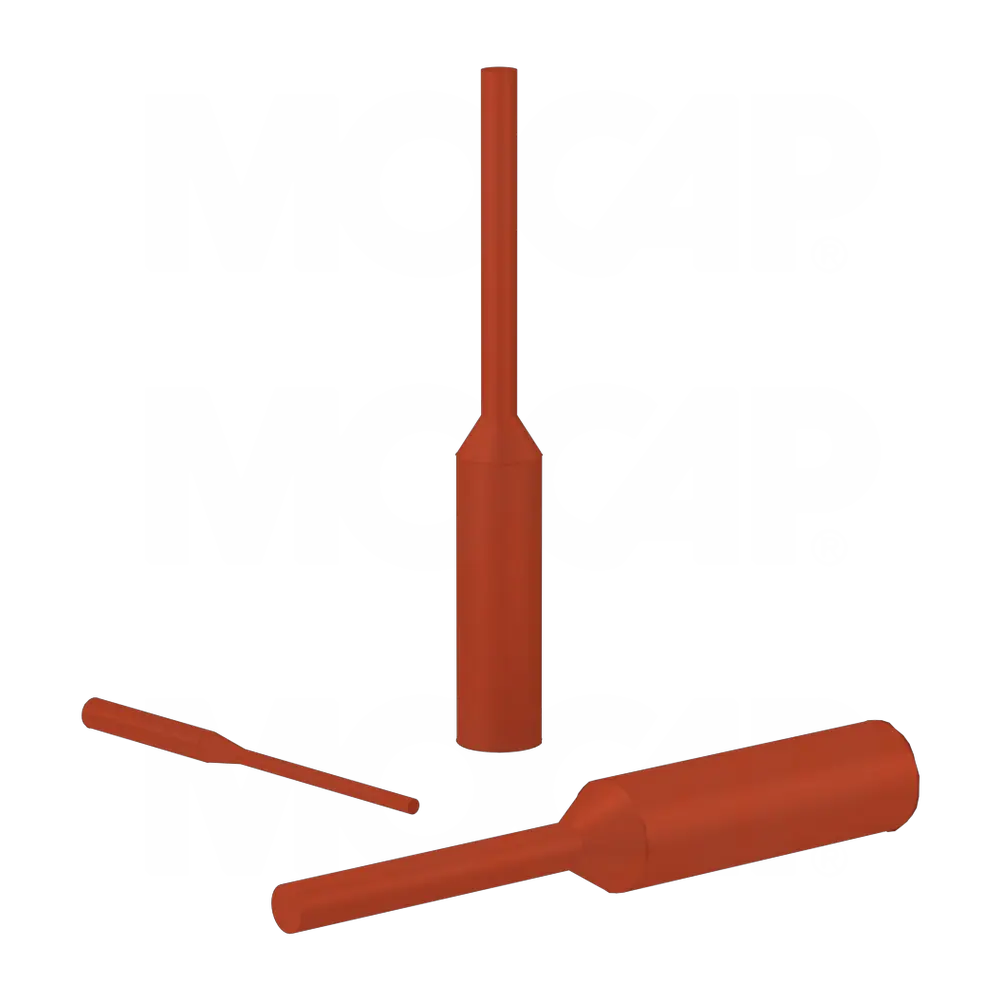 Material: Silicone
Convenient Handle and Parallel Design for Masking of Through-Holes
Part #
Description
Suggested Applications
Diameter

Stem Diameter

Length

Bevel Length

Stem Height


Box

/

Mini

/

Micro


QTY
Buy Online
More info
MSPP.109
Silicone Rubber Pull Plugs - .109 SILICONE PULL PLUG
4-40

2.8

0.060

1.5

15.9

0.118

3.0

0.625

15.9

2500

500

50

MSPP.130
Rubber Masking Plugs - .130 SILICONE PULL PLUG
6-32

3.3

0.082

2.1

15.9

0.118

3.0

0.625

15.9

2500

500

50

MSPP.141
Masking Pull Plugs - .141 SILICONE PULL PLUG
M4

3.6

0.086

2.2

15.9

0.078

2.0

0.551

14.0

2500

500

50

MSPP.156
Silicone Masking Plugs with Handle - .156 SILICONE PULL PLUG
8-32

4.0

0.082

2.1

15.9

0.118

3.0

0.625

15.9

2500

500

50

MSPP.180
Silicone Hole Stopper - .180 SILICONE PULL PLUG
10-24

4.6

0.110

2.8

15.9

0.118

3.0

0.625

15.9

2500

500

50

MSPP.217
Silicone Pull Plugs - .217 SILICONE PULL PLUG
M6

5.5

0.125

3.2

25.0

0.118

3.0

0.866

22.0

2500

500

50

MSPP.225
Silicone Pull Plugs - .225 SILICONE PULL PLUG
1/4-20

5.7

0.125

3.2

25.4

0.118

3.0

1.000

25.4

2500

500

50

MSPP.275
Silicone Rubber Masking Plugs - .275 SILICONE PULL PLUG
M8 5/16-18

7.0

0.130

3.3

25.4

0.118

3.0

1.000

25.4

2500

500

50

MSPP.335
Rubber Masking Plug - .335 SILICONE PULL PLUG
3/8-16

8.5

0.157

4.0

25.4

0.118

3.0

1.000

25.4

2500

500

50

MSPP.355
Silicone Rubber Pull Plugs - .355 SILICONE PULL PLUG
M10

9.0

0.157

4.0

25.0

0.118

3.0

0.866

22.0

2500

500

50

MSPP.445
Rubber Masking Plugs - .445 SILICONE PULL PLUG
1/2

11.3

0.157

4.0

25.4

0.196

5.0

1.000

25.4

2500

500

50

Part #
Description
Suggested Applications
Diameter

Stem Diameter

Length

Bevel Length

Stem Height


Box

/

Mini

/

Micro


QTY
Buy Online
More info
Legend:
- Add to Cart
- View Price
Micropacks are only available for purchase through our online store.
Not Quite Sure What You Need? Want to Consider Another Type or a Different Material?
Consult MOCAP's Exclusive
Application Advisor
for Assistance.
Silicone Rubber Pull Plugs - Information
MOCAP Silicone Rubber Pull Plugs are stocked in many sizes to fit your specific application. Silicone rubber product pull plugs are ideal for powder coating and E-coating operations because they resist high temperatures to 600°F(316°C). Also ideal for chrome plating. Reusable in many applications.
MOCAP's line of rubber products includes silicone and EPDM rubber plugs and caps stocked in many sizes for immediate shipment.