Center Pull Tapered Plastic Plugs
CP
View Larger Image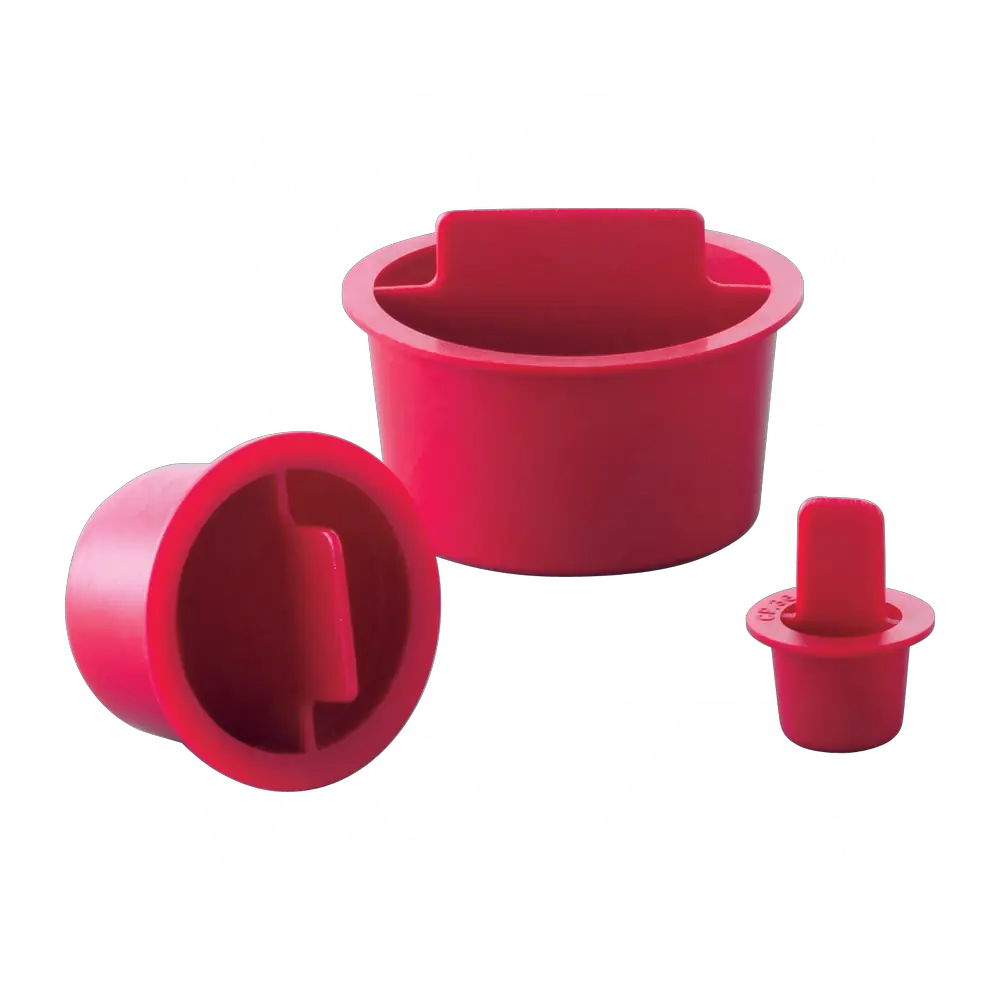 Material: LDPE (Low Density Polyethylene)
Stocked Material: LDPE (Red)
Pull Tab Allows for Quick and Easy Removal
Extra Strong Tab is Molded into Plug so it Will Not Break Off
Part #
Description
Small O.D.

Large O.D.

Flange OD

Length

Tab Height

Tab Width


Box

/

Mini

/

Micro


QTY
Buy Online
More info
CP.11/.18
Center Pull Tapered Plastic Plugs - CENTER PULL TAPERED PLUG

0.116

2.9

4.6

0.310

7.9

9.6

0.380

9.6

0.120

3.1

5000

1000

100

CP.14/.20
Plastic Tapered Center Pull Plugs - CENTER PULL TAPERED PLUG

0.145

3.7

5.2

0.410

10.4

9.6

0.380

9.6

0.150

3.8

5000

1000

100

CP.23/.30
Plastic Center Pull Plugs - CENTER PULL TAPERED PLUG

0.236

6.0

7.7

0.440

11.2

9.6

0.380

9.6

0.240

6.1

4000

800

80

CP.29/.36
Removable Center Pull Tab Plastic Plugs - CENTER PULL TAPERED PLUG

0.299

7.6

9.3

0.500

12.7

9.6

0.380

9.6

0.302

7.7

5000

1000

100

CP.33/.39
Pull Tab Plugs for Product Protection - CENTER PULL TAPERED PLUG

0.330

8.4

10.1

0.530

13.5

9.6

0.380

9.6

0.252

6.4

4500

900

90

CP.36/.42
Pull Tab Plugs - CENTER PULL TAPERED PLUG

0.361

9.2

10.9

0.560

14.2

9.6

0.380

9.6

0.256

6.5

3500

700

70

CP.41/.48
Protective Plastic Plugs with Handle - CENTER PULL TAPERED PLUG

0.419

10.6

12.3

0.630

16.0

9.6

0.380

9.6

0.315

8.0

5000

1000

100

CP.47/.54
Center Pull Tapered Plastic Component Protection - CENTER PULL TAPERED PLUG

0.471

12.0

13.9

0.690

17.5

11.2

0.380

9.6

0.374

9.5

4500

900

90

CP.53/.60
Center Pull Tapered Plug - CENTER PULL TAPERED PLUG

0.532

13.5

15.4

0.750

19.1

11.2

0.310

7.9

0.394

10.0

4000

800

80

CP.55/.63
Center Pull Tapered Plastic Plugs - CENTER PULL TAPERED PLUG

0.550

14.0

16.0

0.750

19.1

11.9

0.250

6.4

0.394

10.0

4000

800

80

CP.64/.72
Plastic Tapered Center Pull Plugs - CENTER PULL TAPERED PLUG

0.640

16.3

18.5

0.880

22.3

12.7

0.250

6.4

0.472

12.0

5000

1000

100

CP.69/.78
Plastic Center Pull Plugs - CENTER PULL TAPERED PLUG

0.690

17.5

20.0

0.940

23.9

14.2

0.250

6.4

0.512

13.0

4000

800

80

CP.75/.84
Removable Center Pull Tab Plastic Plugs - CENTER PULL TAPERED PLUG

0.750

19.1

21.5

1.000

25.4

14.2

0.250

6.4

0.512

13.0

5000

1000

100

CP.80/.91
Pull Tab Plugs for Product Protection - CENTER PULL TAPERED PLUG

0.802

20.4

23.1

1.060

26.9

16.0

0.250

6.4

0.512

13.0

5000

1000

100

CP.91/1.04
Pull Tab Plugs - CENTER PULL TAPERED PLUG

0.915

23.2

26.4

1.160

29.5

17.5

0.250

6.4

0.512

13.0

3500

700

70

CP1.07/1.19
Protective Plastic Plugs with Handle - CENTER PULL TAPERED PLUG

1.069

27.2

30.2

1.410

35.8

17.5

0.250

6.4

1.000

25.4

2500

500

50

CP1.15/1.30
Center Pull Tapered Plastic Component Protection - CENTER PULL TAPERED PLUG

1.150

29.2

33.0

1.430

36.3

19.1

0.250

6.4

0.827

21.0

2000

400

40

CP1.17/1.28
Center Pull Tapered Plug - CENTER PULL TAPERED PLUG

1.179

29.9

32.7

1.440

36.6

19.1

0.250

6.4

0.826

21.0

1500

300

30

CP1.22/1.35
Center Pull Tapered Plastic Plugs - CENTER PULL TAPERED PLUG

1.224

31.1

34.4

1.500

38.1

19.1

0.250

6.4

0.826

21.0

1000

200

20

CP1.23/1.36
Plastic Tapered Center Pull Plugs - CENTER PULL TAPERED PLUG

1.235

31.4

34.5

1.530

38.9

19.1

0.250

6.4

0.826

21.0

1000

200

20

CP1.29/1.35
Plastic Center Pull Plugs - CENTER PULL TAPERED PLUG

1.292

32.8

34.4

1.500

38.1

19.8

0.250

6.4

0.826

21.0

1500

300

30

CP1.31/1.46
Removable Center Pull Tab Plastic Plugs - CENTER PULL TAPERED PLUG

1.312

33.3

37.2

1.620

41.1

19.1

0.250

6.4

0.826

21.0

1000

200

20

CP1.32/1.41
Pull Tab Plugs for Product Protection - CENTER PULL TAPERED PLUG

1.326

33.7

36.0

1.650

41.9

14.0

0.150

3.8

1.000

25.4

1000

200

20

CP1.34/1.52
Pull Tab Plugs - CENTER PULL TAPERED PLUG

1.344

34.1

38.8

1.750

44.5

22.4

0.250

6.4

1.000

25.4

1000

200

20

CP1.36/1.42
Protective Plastic Plugs with Handle - CENTER PULL TAPERED PLUG

1.360

34.5

36.1

1.720

43.7

13.5

0.150

3.8

1.000

25.4

1500

300

30

CP1.45/1.60
Center Pull Tapered Plastic Component Protection - CENTER PULL TAPERED PLUG

1.451

36.9

40.7

1.750

44.5

19.1

0.250

6.4

1.000

25.4

1000

200

20

CP1.56/1.68
Center Pull Tapered Plug - CENTER PULL TAPERED PLUG

1.563

39.7

42.8

1.910

48.5

19.1

0.250

6.4

1.000

25.4

1000

200

20

CP1.63/1.75
Center Pull Tapered Plastic Plugs - CENTER PULL TAPERED PLUG

1.633

41.5

44.5

1.940

49.3

19.8

0.250

6.4

1.000

25.4

1000

200

20

CP1.73/1.78
Plastic Tapered Center Pull Plugs - CENTER PULL TAPERED PLUG

1.735

44.1

45.3

1.940

49.3

12.7

0.150

3.8

1.000

25.4

1000

200

20

CP1.76/1.81
Plastic Center Pull Plugs - CENTER PULL TAPERED PLUG

1.760

44.7

46.1

2.180

55.4

12.7

0.150

3.8

1.000

25.4

1000

200

20

CP1.79/1.93
Removable Center Pull Tab Plastic Plugs - CENTER PULL TAPERED PLUG

1.797

45.6

49.2

2.160

54.9

25.4

0.250

6.4

1.000

25.4

500

100

10

CP1.82/1.83
Pull Tab Plugs for Product Protection - CENTER PULL TAPERED PLUG

1.820

46.2

46.6

2.030

51.6

12.7

0.150

3.8

1.000

25.4

1000

200

20

CP2.06/2.24
Pull Tab Plugs - CENTER PULL TAPERED PLUG

2.067

52.5

57.0

2.440

62.0

26.2

0.250

6.4

1.000

25.4

350

70

7

CP2.23/2.27
Protective Plastic Plugs with Handle - CENTER PULL TAPERED PLUG

2.230

56.6

57.7

2.500

63.5

12.7

0.150

3.8

1.000

25.4

1000

200

20

CP2.30/2.46
Center Pull Tapered Plastic Component Protection - CENTER PULL TAPERED PLUG

2.300

58.4

62.6

2.660

67.6

25.4

0.250

6.4

1.000

25.4

250

50

5

CP2.42/2.63
Center Pull Tapered Plug - CENTER PULL TAPERED PLUG

2.425

61.6

66.9

2.880

73.2

25.4

0.250

6.4

1.000

25.4

250

50

5

CP2.69/2.86
Center Pull Tapered Plastic Plugs - CENTER PULL TAPERED PLUG

2.698

68.5

72.8

2.970

75.4

12.7

0.150

3.8

1.000

25.4

500

100

10

CP2.85/2.98
Plastic Tapered Center Pull Plugs - CENTER PULL TAPERED PLUG

2.850

72.4

75.7

3.280

83.3

19.1

0.250

6.4

1.000

25.4

250

50

5

CP3.32/3.45
Plastic Center Pull Plugs - CENTER PULL TAPERED PLUG

3.320

84.3

87.7

3.620

91.9

19.1

0.250

6.4

1.000

25.4

250

50

5

Part #
Description
Small O.D.

Large O.D.

Flange OD

Length

Tab Height

Tab Width


Box

/

Mini

/

Micro


QTY
Buy Online
More info
Legend:
- Add to Cart
- View Price
​
Micropacks are only available for purchase through our online store.
​
Not Quite Sure What You Need? Want to Consider Another Type or a Different Material?
Consult MOCAP's Exclusive
Application Advisor
for Assistance.
Center Pull Tapered Plastic Plugs - Information
MOCAP
Polyethylene
Center Pull Tapered Plastic Plugs
are similar to our
standard tapered plastic plug caps
, but have a
center pull tab
designed to facilitate removal.
An extra strong tab
is molded into the bottom and sides of this plastic plug and extends well above the plug flange making it
easy to grasp and remove
.
Center Pull Tab for Easy Removal
Tapered Plastic Plug fits Multiple Size Openings
Center Pull Tapered Plastic Plugs are also available with a
Wide Flange
, when extra protection is required.
MOCAP stocks Center Pull Tapered Plastic Plugs in many sizes for immediate shipment.
MOCAP now offers Micro-Pack and Mini-Pack quantities when less than case quantities are what you really need. To place an order, click the cart icon on the size chart. Or, to get more information about MOCAP products, call 800.633.6775 or use our
Contact Request Form
to receive information by e-mail.