Tapered Plugs for Type L and M Tubing
LMP
View Larger Image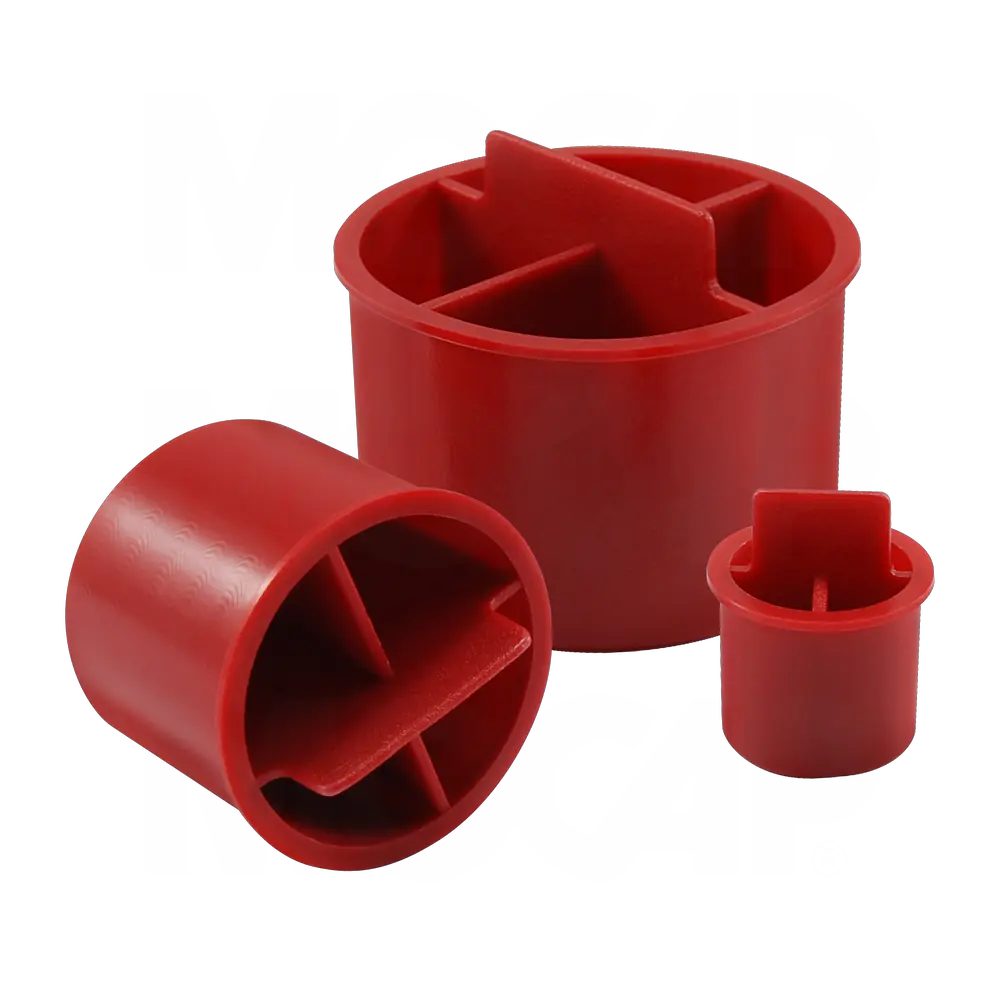 Material: LDPE (Low Density Polyethylene)
Stocked Material: LDPE (Red)
Reinforced Cross Bracing for Secure Fit
Features Durable Pull-Tab for Easy Removal
Part #
Description
To Fit Tube Size
Small O.D.

Large O.D.

Length

Flange OD

Tab Width


Box

/

Mini

/

Micro


QTY
Buy Online
More info
LMP0375
Tapered Plugs for Type L and M Tubing - TAPERED PLUG FOR 3/8 TYPE L AND M TUBING
3/8

0.320

8.1

8.4

9.7

0.375

9.5

0.217

5.5

7500

1500

150

LMP0500
Type L and Type M Tubing Plastic Tapered Plugs - TAPERED PLUG FOR 1/2 TYPE L AND M TUBING
1/2

0.420

10.7

11.2

9.7

0.500

12.7

0.258

6.6

7500

1500

150

LMP0625
Plastic Plugs Caps - Type L and M Tubing - TAPERED PLUG FOR 5/8 TYPE L AND M TUBING
5/8

0.540

13.7

14.2

12.7

0.625

15.9

0.378

9.6

9000

1800

180

LMP0750
Polyethylene Plastic Cork for Type L and M Tubing - TAPERED PLUG FOR 3/4 TYPE L AND M TUBING
3/4

0.660

16.8

17.5

15.7

0.750

19.1

0.489

12.4

5000

1000

100

LMP0875
Type L Tubing Plugs and Type M Tubing Plugs - TAPERED PLUG FOR 7/8 TYPE L AND M TUBING
7/8

0.780

19.8

20.6

19.1

0.875

22.2

0.495

12.6

3000

600

60

LMP1125
Tapered Plug For Type L Copper Tube - TAPERED PLUG FOR 1-1/8 TYPE L AND M TUBING
1-1/8

1.020

25.9

26.7

22.4

1.125

28.6

0.760

19.3

1500

300

30

LMP1375
Tapered Fittings for Type L or M Tubing - TAPERED PLUG FOR 1-3/8 TYPE L AND M TUBING
1-3/8

1.260

32.0

33.0

25.4

1.375

34.9

1.000

25.4

1000

200

20

LMP1625
Plastic Protection for Type L and M Tubing - TAPERED PLUG FOR 1-5/8 TYPE L AND M TUBING
1-5/8

1.500

38.1

39.1

25.4

1.625

41.3

1.000

25.4

700

140

14

LMP2125
Tapered Type L and M Plug - TAPERED PLUG FOR 2-1/8 TYPE L AND M TUBING
2-1/8

1.970

50.0

51.3

25.4

2.125

54.0

1.475

37.5

500

100

10

LMP2625
Tapered Plugs for Type L and M Tubing - TAPERED PLUG FOR 2-5/8 TYPE L AND M TUBING
2-5/8

2.450

62.2

63.5

25.4

2.625

66.7

1.475

37.5

250

50

5

LMP3125
Type L and Type M Tubing Plastic Tapered Plugs - TAPERED PLUG FOR 3-1/8 TYPE L AND M TUBING
3-1/8

2.930

74.4

75.9

25.4

3.125

79.4

1.475

37.5

200

40

4

LMP3625
Plastic Plugs Caps - Type L and M Tubing - TAPERED PLUG FOR 3-5/8 TYPE L AND M TUBING
3-5/8

3.410

86.6

87.6

25.4

3.625

92.1

1.985

50.4

100

20

2

LMP4125
Polyethylene Plastic Cork for Type L and M Tubing - TAPERED PLUG FOR 4-1/8 TYPE L AND M TUBING
4-1/8

3.890

98.8

99.8

25.4

4.125

104.8

1.985

50.4

250

50

5

Part #
Description
To Fit Tube Size
Small O.D.

Large O.D.

Length

Flange OD

Tab Width


Box

/

Mini

/

Micro


QTY
Buy Online
More info
Legend:
- Add to Cart
- View Price
​
Micropacks are only available for purchase through our online store.
​
Not Quite Sure What You Need? Want to Consider Another Type or a Different Material?
Consult MOCAP's Exclusive
Application Advisor
for Assistance.
Tapered Plugs for Type L and M Tubing - Information
MOCAP Tapered Plugs For Type L and M Tubing are designed for to plug and protect Type L & Type M copper tubing. The reinforced cross bracing provides for a secure fit and a slight pull-tab allows a grip for easier removal.

Protects tubing from dust and damage during production, shipping and storage.
Our LMP Series Plugs are molded in
Red
polyethylene plastic
and sized to fit Type L and M Tubing from 3/8 OD thru 4 1/8 OD.
MOCAP stocks Tapered Plugs for Type L and M Tubing in many sizes for immediate shipment.
MOCAP now offers Micro-Pack and Mini-Pack quantities when less than case quantities are what you really need. To place an order, click the cart icon on the size chart. Or, to get more information about MOCAP products, call 800.633.6775 or use our
Contact Request Form
to receive information by e-mail.