Silicone Rubber Tubing
SRT
View Larger Image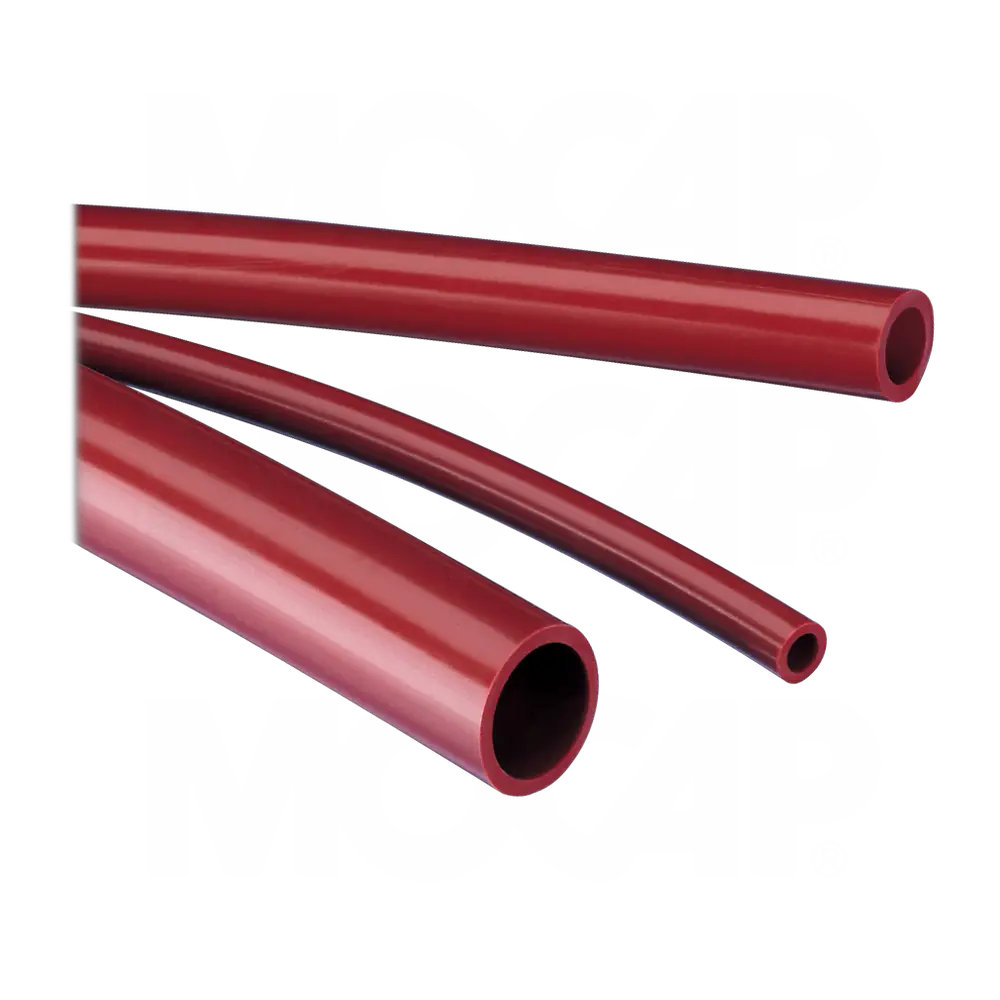 Material: Silicone Tube
Stocked in 50 Ft./100 Ft. Lengths
Default
Part #
Description
Inside Diameter

Wall Thickness

Roll Length

Buy Online
More info
1
SRT104
Silicone Rubber Tubing - .104 ID SILICONE RUBBER TUBING, RED-OXIDE, 100-FT COIL

2.6

0.040

1.0

30.5

2
SRT110
Rubber Tubing - .110 ID SILICONE RUBBER TUBING, RED-OXIDE, 100-FT COIL

2.8

0.040

1.0

30.5

3
SRT130
Rubber Tubing - Silicone - .130 ID SILICONE RUBBER TUBING, RED-OXIDE, 100-FT COIL

3.3

0.040

1.0

30.5

4
SRT149
Flexible Rubber Tubes - .149 ID SILICONE RUBBER TUBING, RED-OXIDE, 100-FT COIL

3.8

0.040

1.0

30.5

5
SRT163
Flexible Silicone Rubber Tubing - .163 ID SILICONE RUBBER TUBING, RED-OXIDE, 100-FT COIL

4.1

0.040

1.0

30.5

6
SRT181
Silicone Tubing - .181 ID SILICONE RUBBER TUBING, RED-OXIDE, 100-FT COIL

4.6

0.040

1.0

30.5

7
SRT224
Silicone Rubber Tubing for Product Masking - .224 ID SILICONE RUBBER TUBING, RED-OXIDE, 100-FT COIL

5.7

0.040

1.0

30.5

8
SRT239
Silicone Rubber Hose - .239 ID SILICONE RUBBER TUBING, RED-OXIDE, 100-FT COIL

6.1

0.040

1.0

30.5

9
SRT302
Silicone Tube - .302 ID SILICONE RUBBER TUBING, RED-OXIDE, 100-FT COIL

7.7

0.060

1.5

30.5

10
SRT330
Silicone Rubber Tubing - .330 ID SILICONE RUBBER TUBING, RED-OXIDE, 100-FT COIL

8.4

0.060

1.5

30.5

11
SRT363
Rubber Tubing - .363 ID SILICONE RUBBER TUBING, RED-OXIDE, 100-FT COIL

9.2

0.060

1.5

30.5

12
SRT380
Rubber Tubing - Silicone - .380 ID SILICONE RUBBER TUBING, RED-OXIDE, 100-FT COIL

9.6

0.060

1.5

30.5

13
SRT420
Flexible Rubber Tubes - .420 ID SILICONE RUBBER TUBING, RED-OXIDE, 100-FT COIL

10.7

0.060

1.5

30.5

14
SRT460
Flexible Silicone Rubber Tubing - .460 ID SILICONE RUBBER TUBING, RED-OXIDE, 100-FT COIL

11.7

0.060

1.5

30.5

15
SRT485
Silicone Tubing - .485 ID SILICONE RUBBER TUBING, RED-OXIDE, 50-FT COIL

12.3

0.060

1.5

15.2

16
SRT535
Silicone Rubber Tubing for Product Masking - .535 ID SILICONE RUBBER TUBING, RED-OXIDE, 50-FT COIL

13.6

0.060

1.5

15.2

17
SRT609
Silicone Rubber Hose - .609 ID SILICONE RUBBER TUBING, RED-OXIDE, 50-FT COIL

15.5

0.060

1.5

15.2

18
SRT727
Silicone Tube - .727 ID SILICONE RUBBER TUBING, RED-OXIDE, 50-FT COIL

18.5

0.060

1.5

15.2

19
SRT853
Silicone Rubber Tubing - .853 ID SILICONE RUBBER TUBING, RED-OXIDE, 50-FT COIL

21.7

0.060

1.5

15.2

20
SRT915
Rubber Tubing - .915 ID SILICONE RUBBER TUBING, RED-OXIDE, 50-FT COIL

23.2

0.060

1.5

15.2

21
SRT975
Rubber Tubing - Silicone - .975 ID SILICONE RUBBER TUBING, RED-OXIDE, 50-FT ROLL

24.8

0.060

1.5

15.2

Default
Part #
Description
Inside Diameter

Wall Thickness

Roll Length

Buy Online
More info
Legend:
- Add to Cart
- View Price
​
Not Quite Sure What You Need? Want to Consider Another Type or a Different Material?
Consult MOCAP's Exclusive
Application Advisor
for Assistance.
Silicone Rubber Tubing - Information
MOCAP
Silicone Rubber Tubing is extruded from a specially formulated silicone with a hardness rating of 60 Shore A and heat stabilized to ensure re-use at temperatures up to 500°F(260°C).
MOCAP
Silicone Rubber Tubing is non-staining and is commonly used for masking studs, pins and other round objects that require a longer length than our standard length
silicone caps
.
Silicone rubber tubing is stocked in 50 ft. and 100 ft. lengths. Ask about custom diameters, sizes and/or profiles for your specific application.
Durable and Reusable Silicone Rubber Tubing
Stocked in Diameters from 0.104" to 0.975" for Immediate Shipment
Factory Cut to Length Available
MOCAP
manufactures a full line of
masking products
including many types and sizes of masking caps and plugs available in silicone rubber, EPDM rubber and high temperature vinyl. Also available:
polyester tape
,
polyimide tape
,
polyester discs
and
polyimide discs
. MOCAP stocks Silicone Rubber Tubing in many sizes for immediate shipment.
CLICK HERE to view MOCAP's other masking products.
​