View Larger Image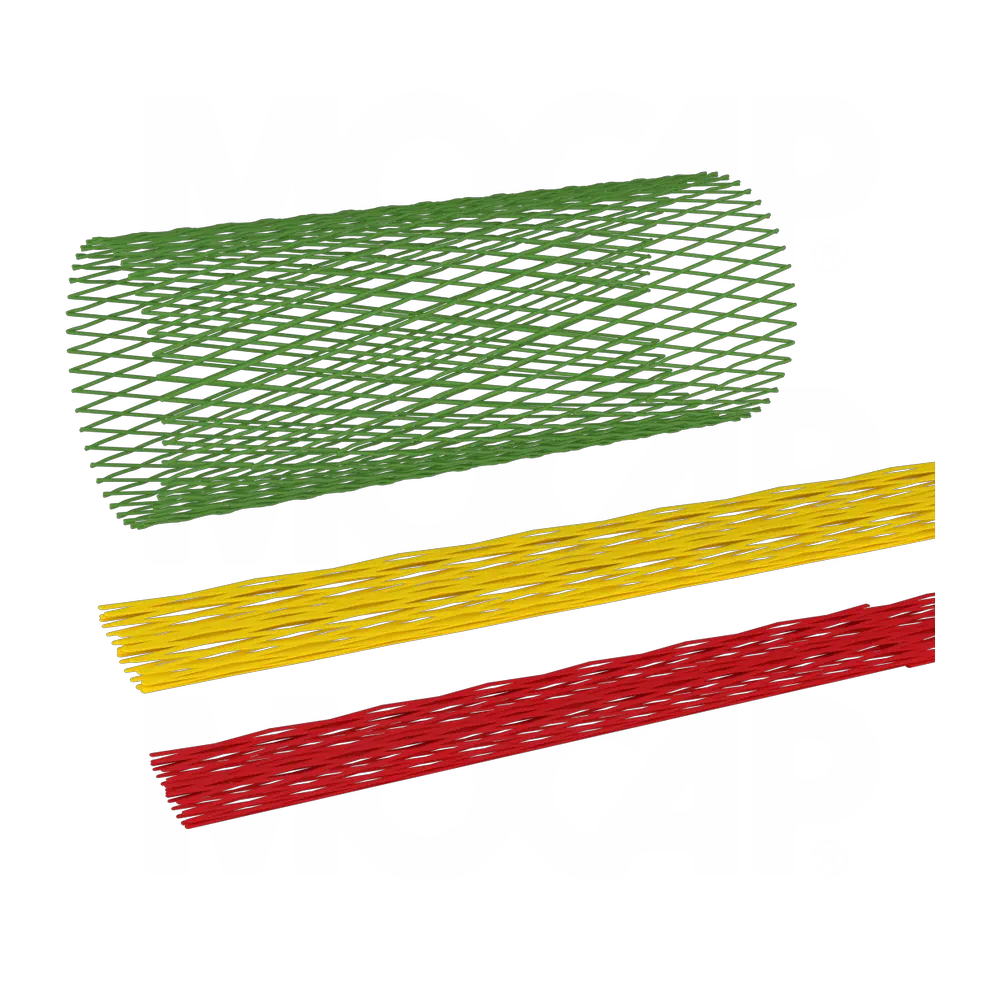 Material: LDPE (Low Density Polyethylene) (Various Colors)
Flexible to Fit Irregular Shapes
Open Design Prevents Corrosion
Sold in Rolls, but can be Sliced to Length
Default
Part #
Description
Color
Approx Diameter Range
Roll Length

Buy Online
More info
1
MCN-03
Protective Netting - 1/4 TO 3/8 DIA ROUND PLASTIC NETTING, RED 820-FT ROLL

Red

1/4"-3/8" (6.35 - 9.53mm)

249.9

2
MCN-03A
Plastic Protective Netting - 1/4 TO 3/8 DIA ROUND PLASTIC NETTING, RED, 1500-FT ROLL

Red

1/4"-3/8" (6.35 - 9.53mm)

457.2

3
MCN-04
Protective Flexible Mesh Netting - 3/8 TO 5/8 DIA ROUND PLASTIC NETTING, ORANGE, 820-FT ROLL

Orange

3/8"-5/8" (9.53 - 15.88mm)

249.9

4
MCN-04A
Flexible Plastic Protective Netting - 3/8 TO 5/8 DIA ROUND PLASTIC NETTING, ORANGE, 1500-FT ROLL

Orange

3/8"-5/8" (9.53 - 15.88mm)

457.2

5
MCN-05
Cylindrical Product Mesh Netting - 5/8 TO 1" DIA ROUND PLASTIC NETTING, BLUE, 820-FT ROLL

Blue

5/8"-1" (15.88 - 25.40mm)

249.9

6
MCN-05A
Protective Netting Sleeves - 5/8 TO 1" ROUND PLASTIC NETTING, BLUE, 1500-FT ROLL

Blue

5/8"-1" (15.88 - 25.40mm)

457.2

7
MCN-06
Nylon Plastic Mesh Netting - 1" TO 2" DIA ROUND PLASTIC NETTING, YELLOW, 164-FT ROLL

Yellow

1"-2" (25.40 - 50.80mm)

50.0

8
MCN-06A
Flexible Mesh Packaging Sleeves - 1" TO 2" DIA ROUND PLASTIC NETTING, YELLOW, 1500-FT ROLL

Yellow

1"-2" (25.40 - 50.80mm)

457.2

9
MCN-07
Heavy Duty Protective Mesh Sleeving - 2" TO 4" DIA ROUND PLASTIC NETTING, RED, 164-FT ROLL

Red

2"-4" (50.80 - 101.60mm)

50.0

10
MCN-07A
Protective Netting - 2" TO 4" DIA ROUND PLASTIC NETTING, RED, 1500-FT ROLL

Red

2"-4" (50.80 - 101.60mm)

457.2

11
MCN-08
Plastic Protective Netting - 4" TO 6" DIA ROUND PLASTIC NETTING, GREEN, 164-FT ROLL

Green

4"-6" (101.60 - 152.40mm)

50.0

12
MCN-09
Protective Flexible Mesh Netting - 6" TO 8" DIA ROUND PLASTIC NETTING, BROWN, 164-FT ROLL

Brown

6"-8" (152.40 - 203.20mm)

50.0

13
MCN-10
Flexible Plastic Protective Netting - 8" TO 10" DIA ROUND PLASTIC NETTING, CRYSTAL, 164-FT ROLL

Crystal

8"-10" (203.20 - 254.00mm)

50.0

14
MCN-11
Cylindrical Product Mesh Netting - 10" TO 12" DIA ROUND PLASTIC NETTING, GREEN, 164-FT ROLL

Green

10"-12" (254.00 - 304.80mm)

50.0

Default
Part #
Description
Color
Approx Diameter Range
Roll Length

Buy Online
More info
Legend:
- Add to Cart
- View Price
Not Quite Sure What You Need? Want to Consider Another Type or a Different Material?
Consult MOCAP's Exclusive
Application Advisor
for Assistance.
Protective Netting - Information
MOCAP LDPE Plastic Netting
is ideal for
product protection
and separation of products in all process, handling, shipping and storage applications. The diamond shape
open mesh
eliminates trapping of moisture, thus protecting against rust and corrosion.
Protective plastic netting
is flexible enough to stretch over irregular shapes and is
stocked in a wide range of sizes
.
MOCAP
plastic netting delivers superior conforming protection for all of your shipping and handling needs.
Custom size and cut-to-length plastic netting is also available -
contact MOCAP
for more details.
Flexible Netting Fits Irregular Shapes
Round Netting Sizes to fit 1/4" to 12" Diameters
MOCAP stocks Protective Netting in many sizes for immediate shipment.

Can be Sliced to Length
​