EPDM Rubber Washer Plugs
MEWP
View Larger Image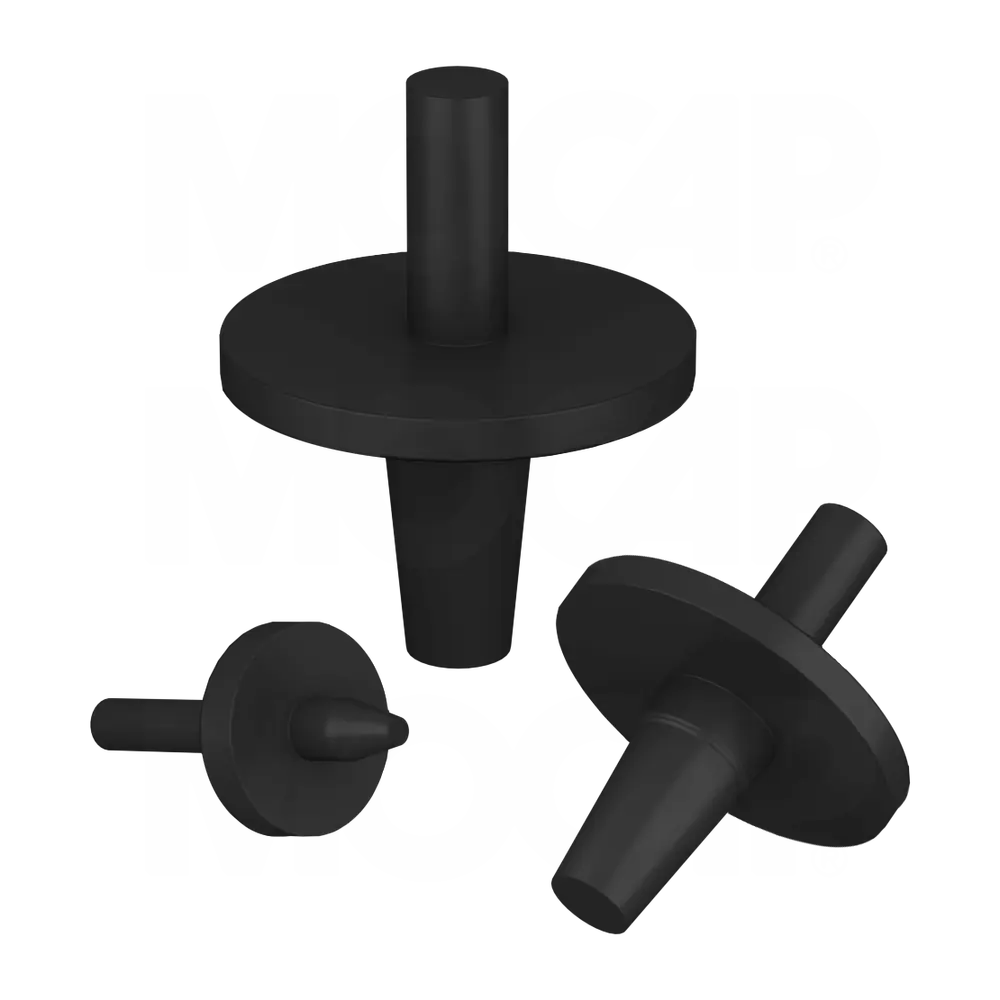 Material: EPDM (Ethylene Propylene Diene Monomer)
Features a Flange for Masking the Area Around a Hole
Part #
Description
Stem Diameter

Plug Small Diameter

Plug Large Diameter

Flange OD

Length

Bevel Length

Stem Height

Flange Thickness


Box

/

Mini

/

Micro


QTY
Buy Online
More info
MEWP3
EPDM Rubber Washer Plugs - M3 WASHER PLUG-EPDM

0.156

4.0

1.5

2.4

0.393

10.0

2.5

0.156

4.0

0.590

15.0

0.118

3.0

2500

500

50

MEWP4
EPDM Washers - M4 WASHER PLUG-EPDM

0.156

4.0

2.0

3.6

0.472

12.0

3.2

0.156

4.0

0.590

15.0

0.118

3.0

2500

500

50

MEWP5
Rubber Washer Plugs - M5 WASHER PLUG-EPDM

0.156

4.0

2.8

4.5

0.472

12.0

3.5

0.216

5.5

0.590

15.0

0.118

3.0

2500

500

50

MEWP6
Rubber Washer Plug - M6 WASHER PLUG-EPDM

0.196

5.0

3.0

5.3

0.511

13.0

3.5

0.255

6.5

0.590

15.0

0.118

3.0

2500

500

50

MEWP8
EPDM Rubber Stopper with Washer - M8 WASHER PLUG-EPDM

0.196

5.0

4.0

7.2

0.590

15.0

4.0

0.313

8.0

0.590

15.0

0.118

3.0

2500

500

50

MEWP10
EPDM Tapered Masking Plugs - M10 WASHER PLUG-EPDM

0.236

6.0

4.5

8.8

0.787

20.0

4.0

0.472

12.0

0.590

15.0

0.118

3.0

2500

500

50

MEWP12
EPDM Rubber Plug for Powder Coating - M12 WASHER PLUG-EPDM

0.236

6.0

5.5

10.6

0.866

22.0

4.0

0.551

14.0

0.590

15.0

0.118

3.0

2500

500

50

Part #
Description
Stem Diameter

Plug Small Diameter

Plug Large Diameter

Flange OD

Length

Bevel Length

Stem Height

Flange Thickness


Box

/

Mini

/

Micro


QTY
Buy Online
More info
Legend:
- Add to Cart
- View Price
Micropacks are only available for purchase through our online store.
Not Quite Sure What You Need? Want to Consider Another Type or a Different Material?
Consult MOCAP's Exclusive
Application Advisor
for Assistance.
EPDM Rubber Washer Plugs - Information
MOCAP
EPDM rubber washer plugs fit and protect threaded and non-threaded holes while the flange masks the area around the holes.
Rubber EPDM plugs
are chemical resistant and good to 300°F(149°C) and can be re-used in many applications.
MOCAP
's line of rubber products includes
silicone
and
EPDM rubber caps and plugs
stocked in many sizes for immediate shipment.