Threaded Caps for BSP/Gas Fittings
BGC
View Larger Image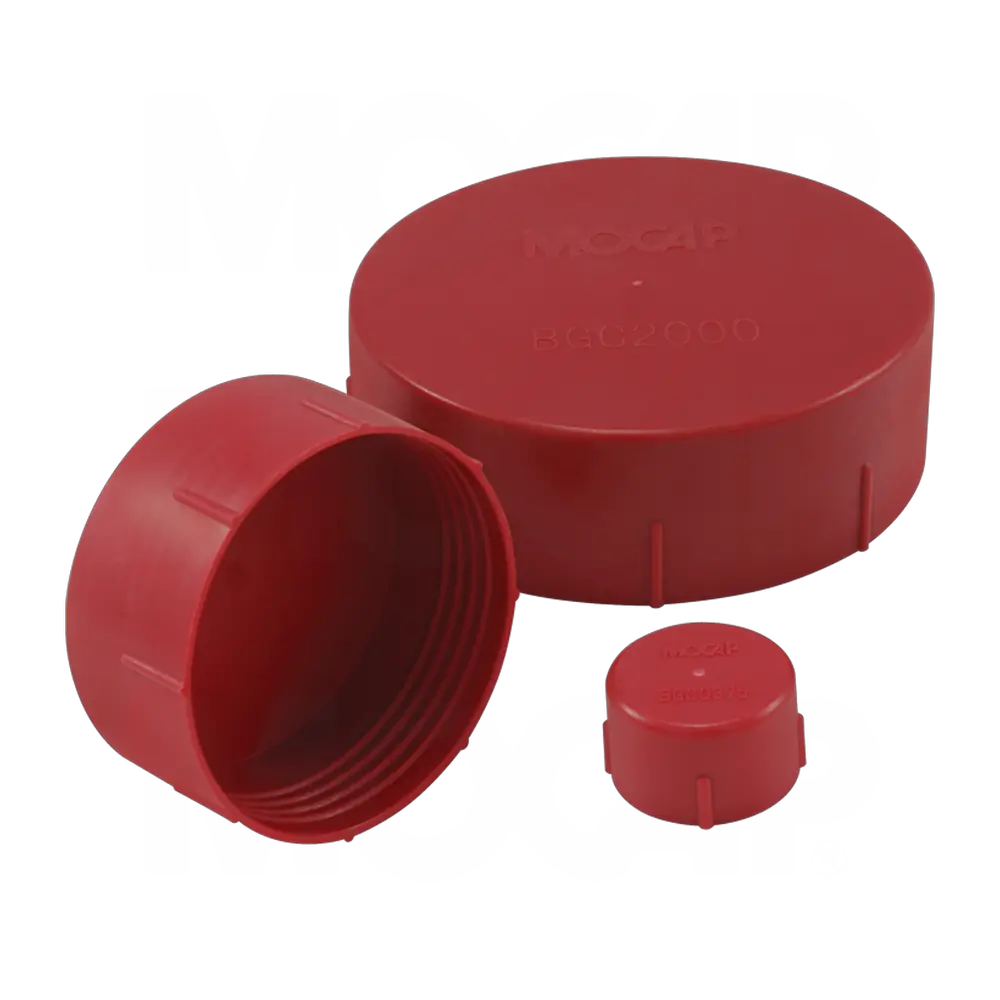 Material: LDPE (Low Density Polyethylene) (Red)
Knurled Grip for Easy Application and Provide a Better-than-Normal Seal with Only Hand-Tightening
Part #
Description
To Fit BSP
Length

Rib Count

Box

/

Mini

/

Micro


QTY
Buy Online
More info
BGC0125RD1
Threaded Caps for BSP/Gas Fittings - CAP FOR 1/8-28 BSP/GAS THREADS, LDPE RED
1/8 - 28

9.6

4

5000

1000

100

BGC0250RD1
Plastic Threaded Caps - CAP FOR 1/4-19 BSP/GAS THREADS, LDPE RED
1/4 - 19

11.0

4

5000

1000

100

BGC0375RD1
BSP/Gas Fittings - Polyethylene Plastic Caps - CAP FOR 3/8-19 BSP/GAS THREADS, LDPE RED
3/8 - 19

11.3

4

5000

1000

100

BGC0500RD1
Plastic Caps for BSP/Gas Fittings - CAP FOR 1/2-14 BSP/GAS THREADS, LDPE RED
1/2 - 14

13.5

6

5000

1000

100

BGC0625RD1
Polyethylene Plastic Caps for BSP/Gas Fittings - CAP FOR 5/8-14 BSP/GAS THREADS, LDPE RED
5/8 - 14

15.7

6

3000

600

60

BGC0750RD1
Threaded Caps for BSP/Gas Fittings - CAP FOR 3/4-14 BSP/GAS THREADS, LDPE RED
3/4 - 14

17.7

6

2000

400

40

BGC0875RD1
British Standard Pipe Fitting Cap - CAP FOR 7/8-14 BSP/GAS THREADS, LDPE RED
7/8 - 14

19.5

6

1500

300

30

BGC1000RD1
Plastic BSP Fitting Cap - CAP FOR 1-11 BSP/GAS THREADS, LDPE RED
1 - 11

19.2

6

1500

300

30

BGC1250RD1
Threaded Cap for BSP Fittings - CAP FOR 1-1/4-11 BSP/GAS THREADS, LDPE RED
1-1/4 - 11

19.8

8

1000

200

20

BGC1500RD1
Threaded Caps for BSP/Gas Fittings - CAP FOR 1-1/2-11 BSP/GAS THREADS, LDPE RED
1-1/2 - 11

20.5

8

700

140

14

BGC2000RD1
Plastic Threaded Caps - CAP FOR 2-11 BSP/GAS THREADS, LDPE RED
2 - 11

21.0

8

400

80

8

BGC2250RD1
BSP/Gas Fittings - Polyethylene Plastic Caps - CAP FOR 2-1/4-11 BSP/GAS THREADS, LDPE RED
2-1/4 - 11

25.0

8

350

70

7

BGC2500RD1
Plastic Caps for BSP/Gas Fittings - CAP FOR 2-1/2-11 BSP/GAS THREADS, LDPE RED
2-1/2 - 11

27.6

8

300

60

6

Part #
Description
To Fit BSP
Length

Rib Count

Box

/

Mini

/

Micro


QTY
Buy Online
More info
Legend:
- Add to Cart
- View Price
Micropacks are only available for purchase through our online store.
Not Quite Sure What You Need? Want to Consider Another Type or a Different Material?
Consult MOCAP's Exclusive
Application Advisor
for Assistance.
Threaded Caps for BSP/Gas Fittings - Information
MOCAP Threaded Plastic Caps
are designed for use on British Standard Pipe (
BSP
) threads and fittings. These Threaded Plastic Caps are knurled for easy application and handling.
Protects threaded components from moisture, dust and damage during production, shipping and storage. They can also be used as masking caps during painting and plating operations. Our
BGC Series Threaded Caps
are molded in
Red
polyethylene plastic
and sized to cap BSP/Gas Fitting threads from 1/8-28 thru 1-1/2-11.
MOCAP stocks Threaded Caps for BSP/Gas Fittings in many sizes for immediate shipment.
MOCAP now offers Micro-Pack and Mini-Pack quantities when less than case quantities are what you really need. To place an order, click the cart icon on the size chart. Or, to get more information about MOCAP products, call 800.633.6775 or use our
Contact Request Form
to receive information by e-mail.